What to discover in the Huhtamaki Blueroom
Be present when we unveil exciting developments and new products that are sure to change the packaging game. Are you ready to step into the Huhtamaki Blueroom and discover a more sustainable future?
For us, redefining the possible is about using groundbreaking technology to bring sustainable packaging to everyone, everywhere. Innovating packaging, that is recyclable, to deliver tangible consumer benefits: setting a new standard for recyclability, while ensuring food safety, affordability and accessibility, without any compromises.​
What was once thought impossible is now possible, and affordable, at scale.​
blueloop™ PE
A new solution range made up with up to 95% mono-material content, designed for recycling
Our offering includes ultra-high barrier performance that is comparable to aluminum-based solutions with OmnilockTM PE
This is achieved while reducing the number and thickness of layers in the material structure, minimizing weight and material use
Affordable and globally available in 2023, suitable for most flexible packaging applications
Available in superwhite, transparent or metallized
blueloop™ PP
Designed for demanding applications with sterilization (= retort) in food, pet care and healthcare
We offer a new solution range with >90% mono-material content
Ultra-high barrier performance that is comparable to multi-layer solutions
Designed for optimum process performance
For pet food: proven materials and processes for positive palatability assessments
blueloop™ Paper
A fully recyclable, mono-material paper solution for flexible packaging
Industry-leading 90% paper content combined with ultra-high barrier performance that is comparable to aluminum based solutions
This barrier performance is achieved with no polymer film and without lamination, which makes our OmnilockTM Paper recyclable in existing streams

Suitable for a variety of applications and pack formats in dry food and beverages, confectionery, culinary and snacks
Other innovations
We also present other blueloop specials like our award-winning mono-PET Push Tab blister lid or the recyclable blueloop tube HD. As fit-for-purpose application experts, we are sure to have the right solution for you.
How to find us at Interpack
You can find us at our registration desk at the north entrance of Interpack:
Shorten the registration process by registering in advance. You will find the form in your invitation email or by contacting your Huhtamaki sales contact.
The Huhtamaki Blueroom is nearby, our team at the registration desk will show you the way.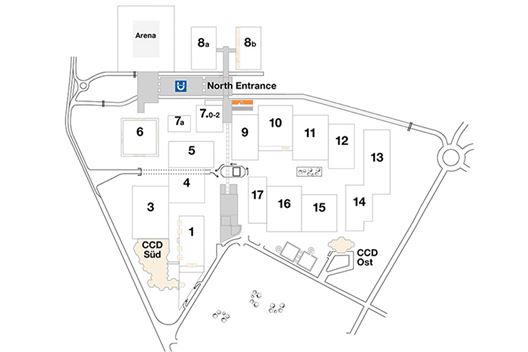 Supporting brands in achieving their 2025 pledges
blueloop Flexibles Solutions
Our blueloop™ flexible technologies take innovation in mono-materials to a new level. Our blueloop™ product range is designed for recycling, providing cost-effective solutions in mono PP, PE, PET and Paper - 100% recyclable in existing mechanical streams.