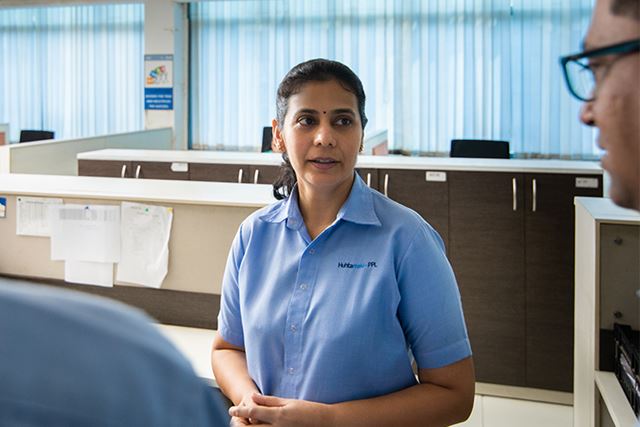 "Commitment, passion and integrity are the keys to success in any arena. This has been my work culture and I try to cultivate it within my team," says Swapna Deshmukh, the first female Plant Head in Thane, at Huhtamaki India.
While there are many women in different positions at Huhtamaki India, this is the first time that a woman is heading a manufacturing unit. Swapna has reached the position with sheer hard work, courage and dedication. Being a Plant Head means dealing with the complexity of people management in the production.
"Dedicating oneself to the task at hand means taking a strong stand in personal and professional behavior. It's the knowledge of business and people management that I build upon. I look forward to continuous support from the management so that together with the team we can make this plant the greatest for ourselves and our customers," Swapna says. The Thane plant is the oldest among the 17 Huhtamaki plants in India and serves many notable fast-moving consumer goods and food companies in India for their flexible packaging needs.
A wide perspective arising from various positions
Swapna Deshmukh has 21 years of experience, and she has worked for Huhtamaki for the past eight years. Her exposure to diverse industries helps her see opportunities for innovation. Educationally, she is a CA and a finance woman through and through. However, curiosity and willingness to learn enabled her to gain experience working across different divisions in Huhtamaki, including MIS, budgeting, inventory, pricing and logistics. She handles overall management of the plant, inventory control, wastage reduction, safety and 5S+S and business excellence initiatives.
Her management skills have been a key to a successful career at Huhtamaki.
"I always try to spot areas that could be improved and approach these issues. I want to empower the team by encouraging them to make productive changes, and not get discouraged by inevitable shortcomings", she says.
Her team members, from the youngest to the oldest, know that she is a good listener who believes in transparency and open communication. Her colleagues respect her for her dedication and perseverance towards the task at hand; the management understands her foresight and the know-how she brings to the table. She views Huhtamaki as an extended family. Swapna motivates and leads with her heart. Being the first female Plant Head is the role she was born to be in.