Corporate Social Responsibility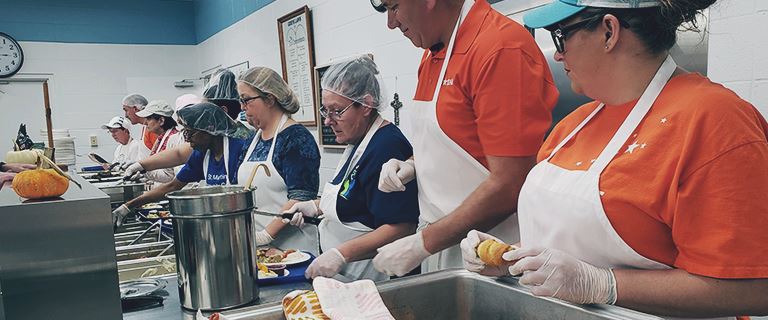 In line with our purpose of protecting food, people and the planet, at Huhtamaki we are committed to being good corporate citizens with a positive impact on the communities we operate in, globally. As part of this, we have developed a philanthropic approach through which every year we encourage our local operations to donate money, time, and product to make a difference where it matters locally.
Our philanthropy strategy ensures that our corporate social responsibility (CSR) activities across the globe are aligned with our commitment to advancing the UN Sustainable Development Goals and our 2030 Strategy.
In practice, our efforts can be broadly classified under three priority areas:
Driving the development of circular economy by improving waste management and product end-of-life treatment
Driving the development of circular economy through innovation and digitalization
Having a positive impact on the local communities we operate in
CSR activities are governed either at a local (site), regional or global level based on the size of the project and/or donation. While the majority of activities are typically carried out locally 2020 marked a special year as Huhtamaki donated an additional €3M to global CSR initiatives as part of its 100-year anniversary celebrations.
Charitable donations as part of Huhtamaki 100-year anniversary celebrations
To commemorate its 100-year anniversary, Huhtamaki made a series of donations totaling EUR 3 million on top of its usual CSR focused activities and charitable contributions, in line with its CSR program.
Driving the development of circular economy by improving waste management and product end-of-life treatment
Huhtamaki and the international charity WasteAid announced a partnership in 2020. The Huhtamaki funded project provided financial support to WasteAid to deliver education and training on waste management and circular systems. It enabled WasteAid to work with key stakeholders in South Africa, Vietnam and India to fast-track and amplify local solutions that create value and reduce waste and pollution, in line with the UN's Sustainable Development Goals.
Huhtamaki also funded a project that aims to stop the flow of plastic into the Indian Ocean from the Mithi River in Mumbai. The Mithi River Project is a global partnership between the United Nations Technology Innovation Labs (UNTIL), VTT Technical Research Centre of Finland, RiverRecycle and Earth5R. The project uses emerging technologies to collect plastic waste and seeks ways to valorize it by turning it into valuable fuels, chemicals, bio energy and fertilizers.
Driving the development of circular economy through innovation and digitalization
Huhtamaki and the impact-focused start-up accelerator Food System 6 ran in 2020 the "Huhtamaki Circular Economy Start-up Program", aimed at surfacing and supporting the most innovative circular economy startups worldwide. The purpose of program was to accelerate the development of young and promising companies working to deliver innovative sustainable solutions in areas such as waste management, sustainable packaging alternatives, new materials innovation, and regenerative production models.
Eight members were selected for the program for their unique and timely innovations across the impact areas of circularity, healthy people, vibrant farms, sustainable ecosystems, and justice & fairness. These companies got to deep dive into impact communications, coaching, and mentorship, and participated in a three-day immersive session in November, hosted virtually by the FS6 and Huhtamaki teams.
Based on presentation and program participation, three companies, SoluBlue, Andes Ag, and Nafici Environmental Research have received additional equity-free grant funding of $50k, $50k and $100k, and one year of on-call custom support from Food System 6 to support them in achieving their upcoming milestones.
Having a positive impact on local communities
Huhtamaki donated EUR 0.5 million in support of the International Federation of Red Cross and Red Crescent Societies' (IFRC) COVID-19 appeal. The funds were channeled via the Finnish Red Cross to support emergency relief efforts in Asia and Europe particularly for the most vulnerable communities. The Red Cross donation was one part of our support towards alleviating the impact of the pandemic.
Huhtamaki annual donations and volunteering activities
We at Huhtamaki believe it is very important to be present and active in our local communities, for example through product donations and volunteering activities, e.g. in soup kitchens and in children's education. In addition, every year we make direct monetary contributions to different causes; in recent years these have been primarily focused on healthcare, sanitation, education, social welfare, and sustainability.
During the COVID-19 crisis, Huhtamaki teams across its global locations have sought opportunities to assist their local communities and make a difference where it matters. Examples of initiatives undertaken include producing face shields for healthcare workers and donating products to health care systems to ensure food hygiene and safety.