Corporate Social Responsibility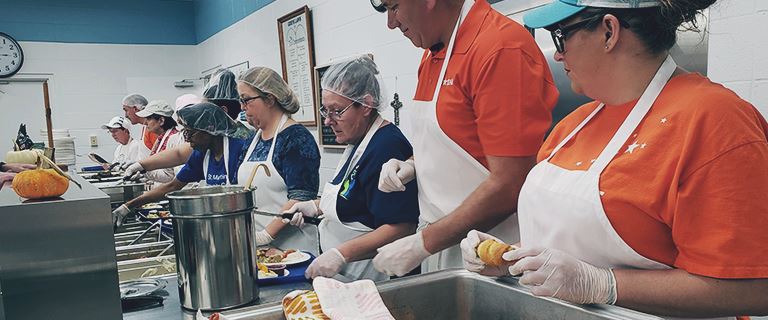 In line with our purpose of protecting food, people and the planet, at Huhtamaki we are committed to being good corporate citizens with a positive impact on the communities we operate in, globally. As part of this, we have developed a philanthropic approach through which every year we encourage our local operations to donate money, time, and products to make a difference where it matters locally.
Our philanthropy strategy ensures that our corporate social responsibility (CSR) activities across the globe are aligned with our commitment to advancing the UN Sustainable Development Goals and our 2030 Strategy.
In practice, our efforts can be broadly classified under three priority areas:
Driving the development of circular economy by improving waste management and product end-of-life treatment
Driving the development of circular economy through innovation and digitalization
Having a positive impact on the local communities we operate in
CSR activities are governed either at a local (site), regional or global level based on the size of the project and/or donation.
Charitable donations as part of Huhtamaki 100-year anniversary celebrations add_circle_outline
While the majority of activities are typically carried out locally, 2020 marked a special year as Huhtamaki donated an additional EUR 3 million to global CSR initiatives as part of its 100-year anniversary celebrations. These initiatives are multi-year projects that continued during 2021 and 2022.
Driving the development of circular economy by improving waste management and product end-of-life treatment
Huhtamaki & Waste Aid
Huhtamaki and the international charity WasteAid announced a partnership in 2020. As part of a Huhtamaki funded project, WasteAid has delivered education and training on waste management and circular systems in South Africa, Vietnam and India. The project contained several informative sessions both online and in each of the three project countries. In addition, WasteAid has develop a network of stakeholders in the member cities to help accelerate knowledge sharing and innovation. This was complemented by an online platform for learning, sharing of good practice and support for community-based resource and waste projects worldwide.
A central part of the project was also WasteAid's Zero Cities Challenge, launched in April 2021. The aim of the initiative was to find six entrepreneurs with innovative ideas to increase recovery and reuse of waste. Over a hundred entries were collected and thirty-six entrepreneurs were selected to receive business incubator support to go through an 8-week intensive business support program. A final pitch to industry experts was held in each region, where six winners were chosen and awarded EUR 10,000 for their concept. Support for the winners to develop their business concepts further has continued during 2022.
Mithi River project
Huhtamaki also funds a project that aims to stop the flow of plastic into the Indian Ocean from the Mithi River in Mumbai. The Mithi River Project is a global partnership between VTT Technical Research Centre of Finland, RiverRecycle and Earth5R. The project uses emerging technologies to collect plastic waste and seeks ways to valorize it by turning it into valuable fuels, chemicals, bio energy and fertilizers.
Huhtamaki donated EUR 600,000 to fund the development and piloting of a river waste collector, invented by the Finnish cleantech start-up RiverRecycle. The collector is an integral part of RiverRecycle's solution to solve the issue of marine waste, one of the biggest global challenges of today. With Huhtamaki's support, a prototype waste collector was built and tested in Finland. In addition to building, setting up and operating the river cleaner for a year, Huhtamaki's donation has been used to organize local hands-on workshops on effective waste management and recycling with a view to drive systemic change. The project also provides input to VTT, the Technical Research Centre of Finland, on floating waste and its seasonal variations, which can be used to optimize clean-up operations and recycling processes for the future.
Driving the development of circular economy through innovation and digitalization
Huhtamaki & Food System 6
Huhtamaki and the impact-focused start-up accelerator Food System 6 ran in 2020 the "Huhtamaki Circular Economy Start-up Program". The purpose of program was to accelerate the development of young and promising companies working to deliver innovative sustainable solutions.
Eight members were selected for the program for their unique and timely innovations. These companies got to deep dive into impact communications, coaching, and mentorship. Based on presentation and program participation, three companies, SoluBlue, Andes Ag, and Nafici Environmental Research received additional equity-free grant funding of $50,000, $50,000 and $100,000, and one year of on-call custom support from Food System 6 to support them in achieving their upcoming milestones.
Disaster Relief donation
Additionally, in 2022 Huhtamaki Group donated EUR 100,000 through the Finnish Red Cross Disaster Relief Fund to help those directly affected by the conflict in Ukraine. Donations to the Fund are used to support both people on the ground in Ukraine and displaced refugees in neighboring countries.
Having a positive impact on local communities add_circle_outline
Huhtamaki annual donations and volunteering activities
We at Huhtamaki believe it is very important to be present and active in our local communities. Our local units give product donations and conduct volunteering activities, e.g. in soup kitchens and in children's education. In addition, every year we make direct monetary contributions to different causes; in recent years these have been primarily focused on healthcare, sanitation, education, social welfare, and sustainability.
During 2021, our units donated around EUR 935,000 to different local charitable causes globally. Additionally, approximately EUR 235,000 was given for social sponsorship to support e.g. universities, local social welfare initiatives or sport activities.
During the COVID-19 crisis, Huhtamaki teams across its global locations have sought opportunities to assist their local communities and make a difference where it matters. Examples of initiatives undertaken include producing face shields.