We want everyone to stay healthy and work safely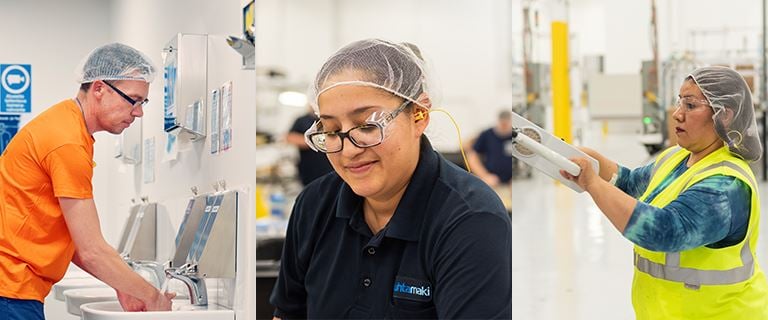 For talent to thrive, we must provide our people with a safe working environment. This means focusing on improving our OHS performance, building our capabilities and competencies across the organization and shaping a zero-accident culture – continuously, until we can truly become an accident-free workplace.
We are building a safety culture and strive to ensure safety for everyone, everywhere. Our ambition is to develop a global mindset where nobody gets hurt and everyone goes home safe at the end of the day.
Steps we are taking to deliver on our commitments:
Our refreshed 2020 OHS governance and policy strengthens the focus on key development programs.
In 2020, we initiated two major improvement projects, one related to improving safe work practices with machines, and another one on chemical management. Both projects address technical, behavioral and leadership elements.
In 2021 we will be introducing new KPIs that not only aim at reducing the number of injuries globally, but also strive to prevent the reoccurrence of an event. In addition to tracking lost time and medical treatment injuries, we will also start following learnings shared from lost time injuries.

Effective health and safety management is a key business enabler
Huhtamaki is committed to providing a safe and healthy environment for employees and all those who visit or work on its premises. Huhtamaki therefore manages its business in a way that is designed to ensure that we maintain the highest standards of health and safety which are reasonably achievable throughout our global operations.
A safe and healthy work environment empowers our people to the highest levels of performance
A safe, healthy and well-planned business environment is important to the long-term sustainable growth of our business. As a business, we acknowledge the collective and individual roles played by each employee in providing health and safety leadership within their areas of responsibility.
Safety performance and health indicators are key elements at attracting and retaining the best people
Occupational health and safety is a key element in our Huhtamaki strategy as we work with all employees and partners on developing our culture, capability, processes and systems to support a safe and healthy workplace.
Read more about our health and safety performance in the Sustainability Supplement of the 2020 Annual Report