Bag-in-Bag Pouch with high drop resistance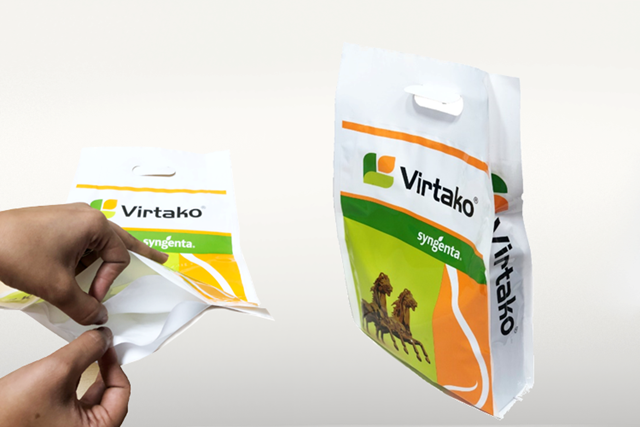 Our Bag-in-bag packaging format is designed to protect granular products from spillage, impact & extreme handling. It features an inner poly liner that stretches to absorb shocks (for example, when dropped), a K seal at the bottom and side gussets reinforced with nylon for high impact & drop resistance. Alternatively, it makes room for multiple compartments within the pouch for complimentary product promotions.
The unique structure and format of the pouch offers unparalleled drop resistance & protection from counterfeiting. Being double-gusseted, the pouch expands to pack more product volumes while maintaining optimal shelf-space & visual-appeal. It features registered gold effects without using metallic inks. A special top D punch reduces pack tearing while improving handling experience during lifting.
The Huhtamaki advantage:
•Unparalleled drop-resistance for improved pack protection
•Golden print effects without the use of metallic inks
•Registered bag in bag packaging design: multiple compartment pouch can pack 3 complimentary products
•Inner PE bag stretches to absorb shocks during extreme handling
•Prevents spillages with unparalleled drop resistance
Suitable applications:
Fertilizer packaging, seeds packaging or other agro product, cement packaging, flour packaging, rice packaging, sugar packaging