Other non food packaging solutions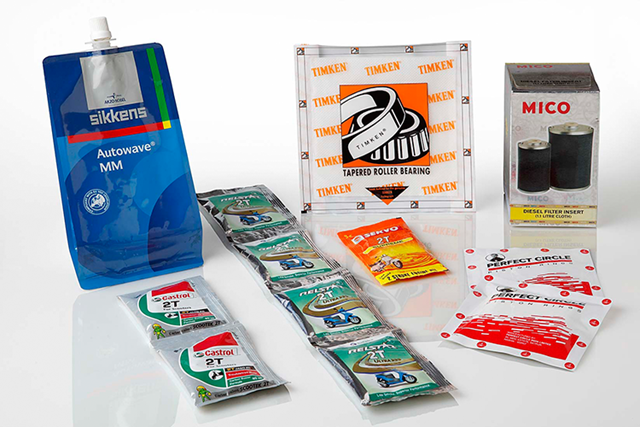 Extending our packaging horizons to cater to all kinds of manufacturing sectors has become our motto.
We not just specialize in food, beverages, personal and household products' packaging, but also caters to the requirements of several other manufacturers of automotive and industrial products, agrochemicals and seeds, pharmaceuticals and other non- food products. Our dynamism and adaptability to requirements of such manufacturers has made us stand a class apart.
Our product offerings also include packaging solutions for:
Automotive and Industrial
Agrochemical and Seeds
Gift Wraps
Our product offering:
Authenticity of automotive and industrial spares not only ensures the longevity of equipments in concern but also the loyalty towards the brand. With our in-house embossing and metallising facilities, we offer you a wide variety of anti-counterfeit packaging solutions using holographic options and UV sensitive lacquer. Supplies are available in rollstock and pouches.
Our gift wraps include traditional gift wraps in the form of rolls and sheet to suit the ready-to-offer retail requirements. Our gift wraps are available as paper based monolayer and laminate based, printed and unprinted. We offer metallized forms and highly attractive holographic patterns of gift wraps.
The highly seasonal nature of the agrochemical and seeds business coupled with counterfeit / spurious supplies necessitates the designing of packaging which offers security features, puncture resistance and extended shelf life. We have successfully addressed these challenges and offer various solutions in rollstock, pouches and high end cartons. We offer solutions like, primary packaging laminates, pre formed pouches, pressure sensitive labels, specialised cartons, security solutions and zipper pouches.
Our product offering:
Pouches for agrochemical and seeds
Our product offering:
Laminate and premade bag for gloves
Laminate and premade bag for agriculture products