Liquor & Cocktail pouches
Imagining liquor being packed in an easy to carry stand pouch is quite difficult. Pocket shot pouches & Thermoformed packs are innovative new concepts that provide the consumer with "Grab and Go" and user friendly package for alcoholic beverages.
These packs can be in distinctive shapes and design to give the perfect look. It also helps the seller in tapping the markets where affordability is an issue. These packs are lightweight and have a compact profile, ideal for space-saving storage and shipment.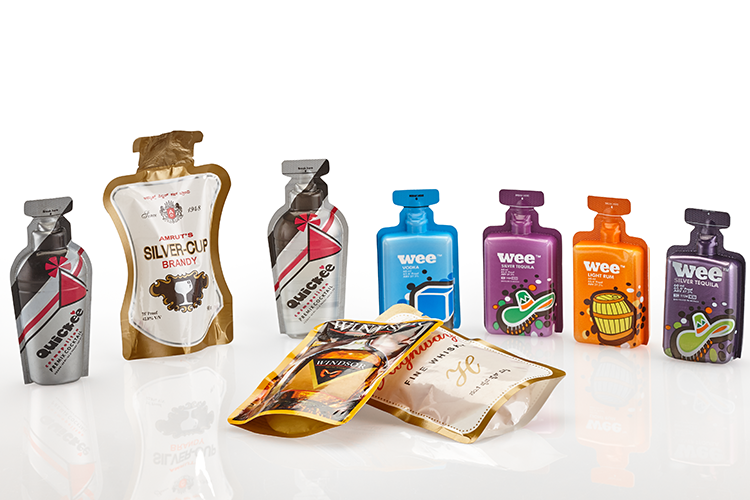 Our products give the marketer a convenient option to use trial packs and helps in tapping the market for single serves.
When it comes to the liquor market, we also offer Shrink Sleeves with metallic & improved aesthetic effects which has become the most sought after decorating option due to its operational efficiency and ability to take complex container shapes They provide extremely premium look to the liquor bottles making them look more sharp, vibrant & appealing.
Our product offering:
Primary packaging laminates
Single serve sachets
Pocket Shot Pouches
Thermoformable single serve packs
Premium Shrink Sleeves for bottles
Wet Strength Labels for beer bottles
Metalised paper labels
Specialized Cartons as secondary pack with premium effects
We offer shaped pouches and thermoforms with eye catching aesthetics, good functionality and convenience.
Our product offering:
Sachets for liquor packing
Specialized pouches for liquor & cocktails