Ice cream wrappers & cone sleeves
Ice cream – a special kind of confectionery. It's more than a product, it's a temptation and it stirs emotions. Ice cream is sensual, sweet and sinful; it was even called "the food of the gods" by the Greeks. In the past it was primarily reserved for the higher echelons and was a real luxury food item. Nowadays it enjoys enormous popularity with people of all ages and has become an absolute lifestyle product around the world.
But – if it isn't bought and consumed immediately - ice cream is also a sensitive food product which demands a lot of its packaging. If it isn't kept frozen it melts very quickly – in the supermarket or at home it is thus essential to keep it in the freezer. So if you want to store it, it has to be perfectly packaged.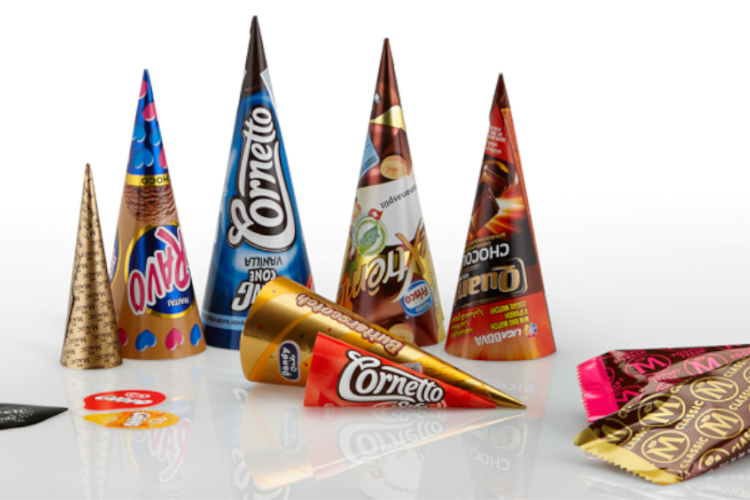 Our contribution to the market appearance of a tempting product
To guarantee pure pleasure, when developing appropriate designs it is essential to ensure that the product will lose nothing in terms of flavour, consistency or shape during storage. At Huhtamaki we take these factors strictly into account and incorporate them into the manufacturing of the packaging. A large number of well designed products for sensitive food items originated with us:
We produce cone sleeves made of paper foil laminate as well as lidding for cone sleeves to ensure that the consumer fully experiences the richness and creamy texture of the product. Icecream wrappers and lidding film for impulse and take home packs complete our portfolio.
Our aim is always to appropriately present the promise of enjoyment offered by ice cream; this can only be achieved when the packaged product is able to suggest the flavour that you get in an ice cream parlour. From design ideas to new packaging development and ready to market solutions, Huhtamaki is the perfect business partner. When would you like us to turn your project into reality?
Europe
India
Thailand
UAE
Our product offering:
Ice cones
Ice wrappers
Lidding films
Die cut lids
Our product offering:
Cone sleeves for ice creams
Flow wraps for ice cream bars
In Mould Labels for ice cream cups
Lidding Solutions for cups
Other information:
Our other product offerings include thermoformable solutions and shaped pouches with eye catching aesthetics, good functionality and convenience.
Our product offering:
Ice Sleeves
Packaging for Ice lollypop
Other information
Optimum packaging has become essential to ensure the product remains an anticipated delight while keeping its form intact. Our sleeves made from metallised laminate with special technique in printing to enhance the eye catching premuim look in the product.
Our product offering:
Ice cream cone sleeves
Ice Cream wrappers or flow wraps
Ice cream biscuit packaging
Lidding film for ice cream cups