Coffee
Various packaging creations for a versatile beverageCoffee is far more than just a drink today – it's a lifestyle, has found its way into all areas of our life, and is always readily available and highly drinkable. It's an essential pick-me-up in the morning, and during the day we like to enjoy it in the form of a cappuccino or latte macchiato. Coffee drinkers make statements: Drinking it the down-to-earth way with milk and sugar, while the figure-conscious among us drink it without anything or lactose-free, with soy milk, syrup or in other unusual creations. In short, coffee is one of the most popular and important foodstuffs for the beverage market.
Millions of small enterprises in developing countries owe their livelihood to coffee cultivation – a profitable business when you consider that 2.5 billion cups of the trendy hot drink are drunk each day in the world; the majority of those in Finland by the way!
For over 35 years, Huhtamaki has been a reliable partner in the development and production of packaging solutions for the coffee industry. Our customers value our knowledge of the market, our high standards in all stages of development and production, our reliable supply, as well as our innovative thinking and actions.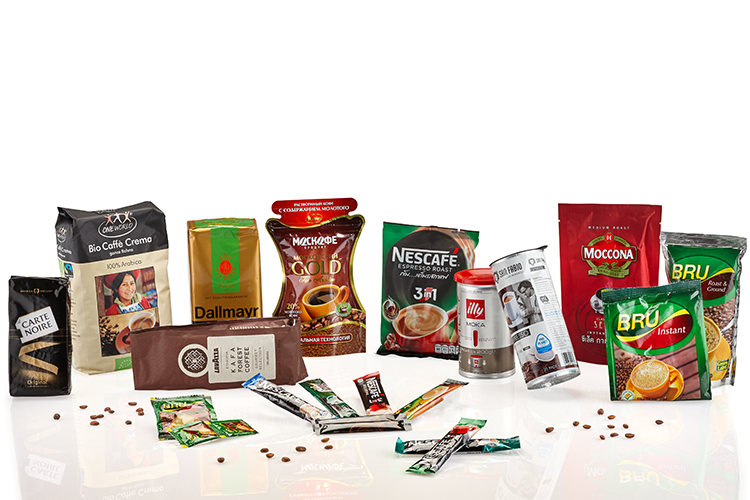 Our wide range of products for any request
Our portfolio for the coffee market includes multilayer films with or without aluminum barriers for coffee beans, inner wrapper for ground coffee packs, printed outer wrapper, head labels, integrated reclose options and last but not least our innovative "Cyclero" pack for coffee pads or grounded coffee or stick packs for instant coffee.
We benefit from our global network, which guarantees the constant availability of resources for us, and enables a reliable supply at all times. At all of our locations, sales teams attend to the wishes of our customers with their excellent and extensive knowledge of regional markets and their needs. We also maintain close links with all the leading machinery manufacturers.
Coffee is more than just a drink – Huhtamaki is more than just a packaging manufacturer: We are partners, problem solvers, and advisors, think in
a progressive way, and focus our activities on the requirements of markets, people, and machinery. We skillfully implement the widest variety of packaging creations. What can we do for you?
Our product offering:
Inner & outer wrapper
Reclosable pouch
Valve films
Head labels
Cyclero