Coffee sachets & pouches
Freshly brewed coffee heralds a new day in more homes than ever before, with 2.25 billion cups of the stimulating beverage being consumed across the world each day, hot or cold. Coffee lovers aside, health-conscious individuals are further contributing to its popularity, by waking up to the stated health benefits of coffee such as antioxidant activity, cancer-fighting effects, protection from type 2 diabetes and so on.
Naturally, the coffee marketplace is a crowded one. New entrants as much as legacy brands are experimenting with specialty blends and exotic gourmet launches in the bid to persuade millennials and metropolitan dwellers. With our customized coffee packaging solutions, we are helping brands to deliver exclusive and memorable impressions with end-users. Be it an instant coffee decoction or freshly ground beans, our offerings extend packaging functionality beyond preserving exclusive aromas and textures, for all-round convenience and appeal.
For instance, our high-barrier paper-based coffee pouches with zippers offer shelf-life protection, improved presentation and reclose functionality. Their natural look and feel helps in positioning products as healthy and organic. Instant coffee sachets are designed with easy tear functionality as a bonus, for on-the-go consumption.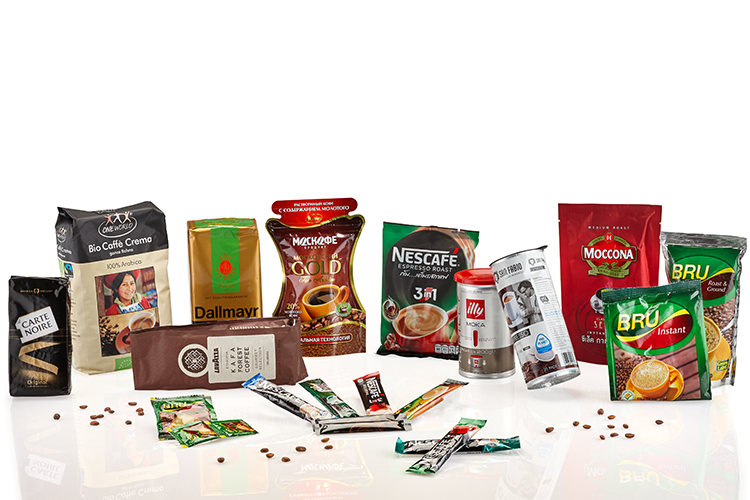 Our wide range of products for any request
Our coffee packaging designs incorporate special profiles, appearances & textures for elevated consumer experiences with easy access, convenient handling and high shelf-impact. We also offer recyclable structures to help brands meet their sustainability commitments and appeal to more savvy consumers seeking environment-friendly products.
Connect with us for new ideas on how to pack more freshness and convenience into your product offerings.
Our product offering:
Primary packaging laminates for beans & ground coffee
Single-serve shaped packs or sachets
Shaped pouches with zippers for powdered coffee
5 and 6 panel box-replacement pouches for high-impact branding and shelf-stability
Spouted pouches for coffee decoctions
Recyclable laminates and pre-made pouches
Shrink Sleeves & pressure sensitive labels with premium effects for bottles
Pack enhancement with aesthetic features and textures – holographic or metallic printing, embossed, satin, grainy textures, high-gloss, matt-gloss, fluorescent inks