Soups and Sauces
Soups are a quick and healthy snacking option today, given the lack of time and hectic working lifestyle. Soup products need to have an appealing and appetising appearance to be picked from the shelf by the consumer. Our packaging material for soups and sauces is specially engineered to be compatible with aggressive products and acidic nature of the food.
We offer high-performance, domestically manufactured materials that withstand thermal sterilization of shelf stable soups & sauces. We preserve the product's taste by using high barrier structures. Our packaging keeps the freshness and taste of the soup and sauces lively.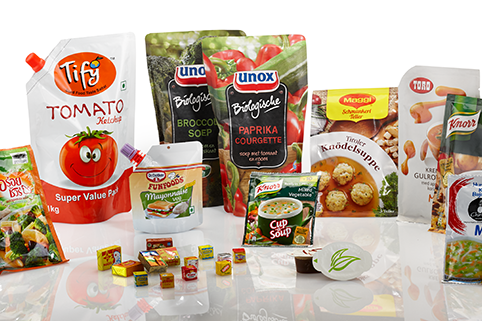 The attractiveness of such packaging primarily depends on its high-quality print finish and a smooth surface.Ready-to-eat, liquid or dry, irrespective of its form, our high standard packaging retains the taste of the soup and helps preserve it for a longer time.
Available in pre-made liquid pouches, rollstock laminates and lids, our retort packaging delivers significant savings to the customer in warehousing space and shipping costs as compared to metal cans and jars.
You can choose from a range of shapes, sizes and levels of barrier properties to best fit your applications. Combined with easy peel or easy tear sealant characteristics, you can get an edge over other similar products on the market shelf.
Our product offering:
Pouches for dehydrated products
Stand-up pouches for standard and retortable applications
Lids/lidding laminates
Soup cube wrappers