Pressure sensitive labels
Thinking of introducing a product in a bottle? Pressure sensitive labels or self-adhesive labels are a preferred choice for most manufactures looking to narrow down their search for liquid & beverage packaging solutions that are appealing and easy to start with. Sparkling through the personal care section of a super market or elegantly inviting your selection of wine, you see them everywhere, owing to their high versatility and friendliness in serving a range of applications from food & beverage, to household to automotive products, including everything in between.
At Huhtamaki, we are using our pressure sensitive capabilities to serve world-famous brands and emerging local players alike, with reliable value and service. Be it a hot summer day or a chilled freezer, our custom PS labels work well with a host of products applications and external environments. Through extended printable label formats and finishes, we can help your products say more with added branding space and visual makeovers. For example, we have multi-layer labels that expand scope for on-pack communication while overcoming space limitations of existing container or bottles labels. Our specialty braille labels help to serve niche needs and enhance consumer experiences by reinforcing more trust and confidence. For jar water labels, we offer the choice of both-side printing for associative imagery that adds more pristine to your waters.
Unlike other alternatives, pressure-sensitive labels do not require heat, solvent or water to activate, making it a truly convenient and straightforward solution. Just like a sticker, it consists of a printable face stock, pressure-sensitive adhesive and a liner with release coating. Depending on your requirement, you can choose to have a matt, metallic, natural, semi-gloss or high gloss aesthetics with add-on decorative and tactile effects for further shelf-distinction. Choose from a variety of our paper, film and foil-based PS offerings also available in short-runs, using our full-scale printing & finishing capabilities.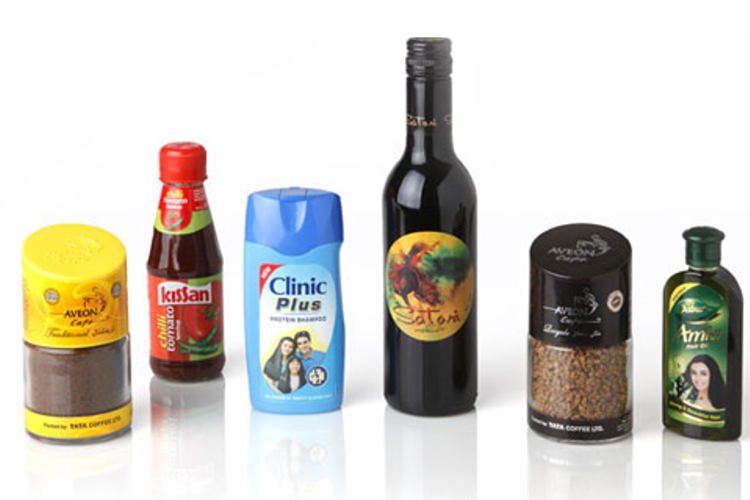 Our product offering:
Unique PS label formats: multi-layer labels (pharma products), hanger-labels (for saline or blood bags), dome labels, squeezable or wrinkle-free labels, removable or permanent labels, tactile labels, tamper-evidence labels, ultra-clear on clear labels
Digital printing, flexo printing, screen printing and offset printing on paper, foil or film to create any type of look
Premium finishing effects: matt, metallic, cold & hot foil-stamping, tactile effects, registered holography
Unique textures with embossed labels and special varnishes for grainy, satin or any other effect
Anti-counterfeit and security labels
Backside printing & coding
Metallic die-cutting
Labels for too high or very low temperatures