Engraved cylinders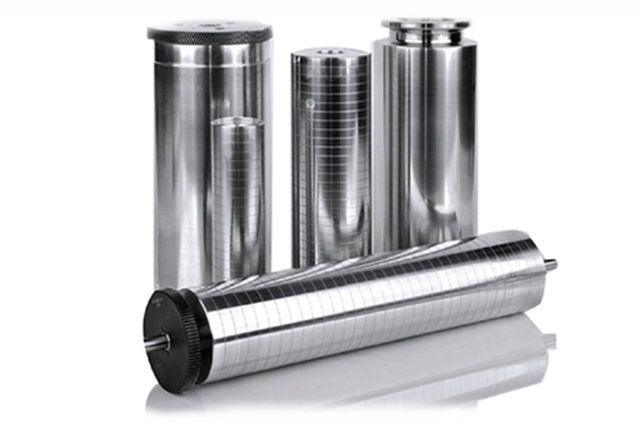 As pioneers in Laser Engraving in India, Acuprint Systems, the cylinder-making division of Huhtamaki India, manufactures & supplies high-quality engraved cylinders to leading converters in the packaging industry, both in India & abroad. Equipped with state-of-the-art technologies & automated lines, Acuprint has cylinder manufacturing facilities in India and the UAE. We also offer advanced prepress services backed by design professionals experienced in using cutting-edge colour processing softwares & technology
Acuprint Systems is certified under ISO 9001:2008, ISO 14001:2004 and OHSAS 18001:2007. In Asia, we have manufacturing facilities at Taloja near Mumbai and at Bengaluru. As Primetech in the UAE, our manufacturing facility is located in Dubai. Together, these manufacturing units service leading packaging converters in their regions.
Our offering:
Prepress
The state-of-the-art prepress is equipped with the latest software for processing all graphics. Advanced digital technology, manned by qualified personnel, enable excellent print management with speedy approvals and execution.
Optical character recognition
Acuprint Systems is equipped with specialised software that can scan TIFF or JPEG images for text conversion to editable formats. This software supports several Arabic, European and Oriental languages.
Cylinder preparation
Post degreasing operation, the dynamically balanced base shells are immersed in a formulated nickel solution. This primary layer ensures affinity to copper plating, which is the next stage in this galvanic process.
Copper plating
High purity copper nuggets in perfect electrolyte chemistry ensure that the cylinders are coated to achieve the desired hardness & grain structure.
Polishing & finishing
The polishing and finishing operation engineers these copper plated cylinders to a predetermined circumference with geometrical precision.
Precise surface roughness is imparted by stone and band polishing for impeccable print quality.
Engraving
Every diamond strike on the cylinder surface provides the cutting edge in enhancing brand appeal and customer satisfaction.
Xtreme engraving
Optimal selection of engraving parameters ensure precise cell geometry for adequate ink volume and excellent ink/adhesive release. Xtreme engraving with HQH software facilitates reproduction of fine details, which are extremely critical for special purpose prints.
Laser precision for gravure & flexo
The machine processes rotogravure cylinders, flexo plates, embossing cylinders, anilox rollers and high-depth speciality coating cylinders. The engraving system uses a laser imager to give a crisp, precise & sharp output.
Laser engraving is ideally suitable for high resolution line work on paper, foil and board. For water based and metallic inks, appropriate cell geometries can be produced for quality reproduction.
Chrome plating
Chrome plating of the engraved cylinders is the next step in this evolution process. Chroming gives solidity to the engraved copper surface to withstand the aggression of inks and chemicals in the printing process. The resultant micro cracks ensure easy doctor blade lubrication for longevity of the cylinders.
Chrome polishing
The Programmable Logic Controller imparts a controlled roughness to the cylinder surface to facilitate excellent reproduction.The entire galvanic line is connected to an in-house effluent treatment plant and air purification system.
Proofing
The engraved cylinders are subsequently proofed to verify the engraving authenticity. The proofing machines are equipped with Electro Static Assist, ensuring impeccable reproduction on papers too. We can even offer fast test-proofs with Epson prints.
Barcode
Barcode Verification System ensures every printout and proof is as per ISO norms of EAN / UPC.
Text and line image check
'Digital Page' software is used for text and line image verification. The customer approved data and the output generated are compared digitally and by pixel for any discrepancies... a quality endeavour in ensuring perfection.
Quality assurance
Stringent quality checks at every stage, right upto despatch, ensure consistency in reproduction over long print runs.
Final product
Packaging gives a whole new life to your product, making it unique in the entire distribution chain. No wonder, the aesthetics and the quality of reproduction are as important as the barrier properties of the package.