Household
Huhtamaki has been a longstanding player as suppliers of packaging material for household products and detergents. Household products require strong packaging to enable long time storage.
Our effort to produce convenient and aesthetically superior packaging solutions for detergents and other household products have made us the primary choice of many renowned FMCG companies across the globe.
Now a day many companies manufacture varieties of detergent product which differ in multiple ways, but all follow one mechanism to clean dirt. If it is stored in weak packaging material, then it creates new chemicals that degrade the quality of detergent and it may start to leak and even create foul odors. So detergent packaging needs to be leakage proof.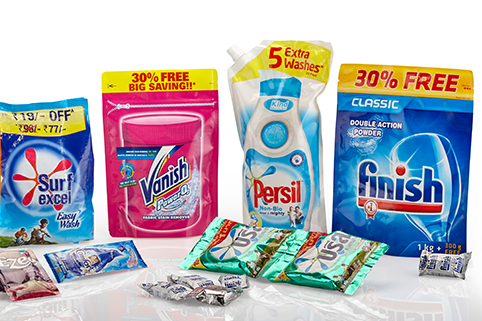 Our packaging products are of the highest quality and useful to package many detergent forms such as
Powder form detergent packaging
Soap bars
Liquid detergent packaging
Our flexible detergent packs provide convenience in transportation and storing of packaging material. The designs we offer for the detergent packaging may vary in accordance with the desired packaging needs. The most popular bag form for detergent packaging would be stand up pouches because they are able to stand unattended on shelves, providing the most systematic shelf appearance and are consumer luring. You can also find our other detergent packaging forms like flat bottom pouches, spout pouches, pillow pouches and many more. We make use of various plastic materials in the production of our detergent packs including
Our detergent packs are made from multiple layers of high quality barrier films laminated together that help the products to be fresher for longer. You can find our spout pouches which are ideal for the liquid detergent packaging. These pouches offer several advantages over other packaging solutions.
Our product offering:
Primary packaging laminates for power or liquid homecare products
High-gloss to recyclable wrappers for soap packaging
High-barrier recyclable pouches & laminates
Stand up pouches in a wide choice of packaging materials and finishes
Easy Pour Pouches with easy and controlled pour for powered products
5 and 6 panel pouches for additional branding space and shelf-appeal
Bulk bags with carry handles for higher SKUs
Decorative pressure sensitive labels & shrink sleeves with tactile features
Pocket sleeves for product bundling
Add on-pack enhancement & brand promotional solutions
Thermofomed single-serve trays for liquid disinfectants and detergents