Cosmetic & personal care packaging
Shelf appeal, reliability and convenience helps you differentiate.
Personal Care products demand packaging solutions which impart premium appearance to the product. Aesthetic and innovative packaging attracts consumers to frequently purchase the product. Good packaging for personal care is one which preserves the contents of the product in its best physical state and prolongs shelf life.
Our packaging acts as a differentiator of your product and helps it stand out from the clutter of several personal care brands. We ensure the success of your product by providing a wide range of packaging options tailor made for your product and its packing line.
We provide flexible packaging solutions for personal care range for some of the most renowned and trusted brands in the world by supplying packaging material for an entire gamut of personal care range like soaps, shampoos, creams, tooth pastes, cosmetics and other beauty care products.
Today, our dynamism and years of experience has enabled us to produce functionally and aesthetically superior materials.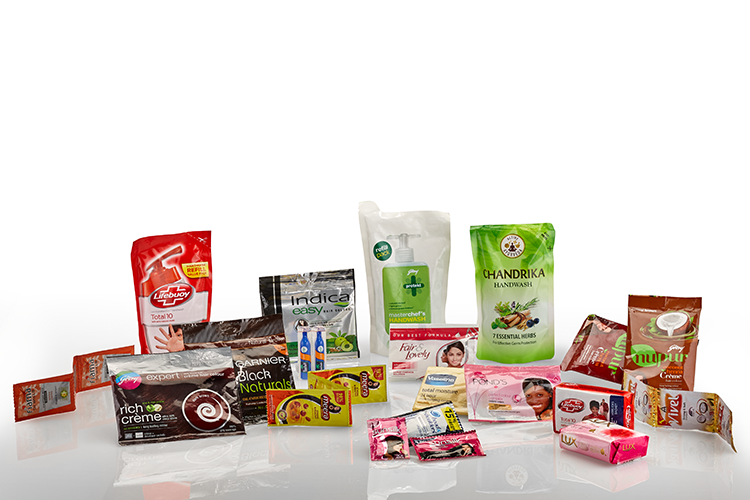 Our product offering:
High barrier laminates in multiple structures
Primary recyclable laminates for shampoo & hair-colourants
Outer recyclable plastic & paper-based flow wraps for creams & gels, toothpaste, hair-colourants & cosmetics
Recyclable plastic and paper-based soap wrappers
Single-serve thermoforms and profile pouches for creams, oils & lotions
Bottom's Up pouch & other unique spouted pouches for better product evacuation and dispensation
Refill pouches for handwash packaging and larger SKUs
Pack enhancement with aesthetic features and textures – holographic or metallic printing, embossed, satin, grainy textures, high-gloss, matt-gloss, fluorescent inks
Digitally printed laminates & pouches for short-runs or variable designs