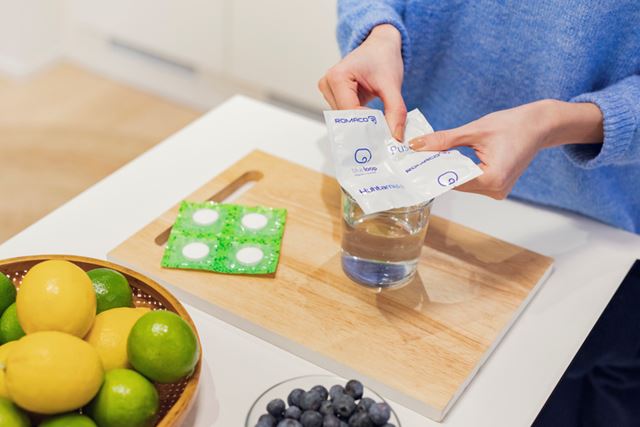 When it comes to Healthcare packaging, the safety of products and with that, the safety and well-being of the consumer is always of utmost importance. Nonetheless, our ambition is to drive and move forward the circular economy, combining sustainability and product safety even for the most sensitive goods.
With our blueloop Healthcare laminates our focus is to provide alternatives to existing composites that contain aluminum, being based on polyolefins.
i.e. PP and PE Mix, or monostructures, i.e. pure PE or PP composites.
Today already, we can offer various tried and tested structures as follows:
OPP/metOPP/PE film – adhesive-laminated
OPP/PE/metOPP/PE – extrusion-laminated and coated
These materials have been tried and tested on various standard machines, ranging from stick pack and flow pack machines, all the way through to sachet machines. This means there's nothing to stop your company from using these materials.
Within the Push Tab® family we provide sustainable packaging alternative to unit dose packaging for pharmaceutical solids. Push Tab® loop, is made from recyclable polyolefin laminate. More than 90 percent of the components which are used belong to the same material class (PE and PP). The result is a primary packaging recycling rate of better than 70 percent in an existing and proven recycling process. Push Tab® blister lid, a PET blister lidding, brings traditional blister packs to a mono PET blister and therefore closer to the circular economy. More information will follow in Q2.
In line with our commitment to sustainability, embedding it in everything we do, we are proud of the progress being made in Healthcare packaging. We look forward to share exiting news and innovation with you.