Shrink sleeves
Shrink sleeve labels are sleeves manufactured from polymer films which shrink and take the shape of the container on application of heat, providing a complete 360 degree coverage.
Shrink Sleeves as a labelling technology has become the most sought after decorating option due to its operational efficiency and ability to take complex container shapes. Shrink Sleeves has gained wide acceptance especially in industries like FMCG, Pharmaceuticals, Industrial products, Food and Beverages, etc.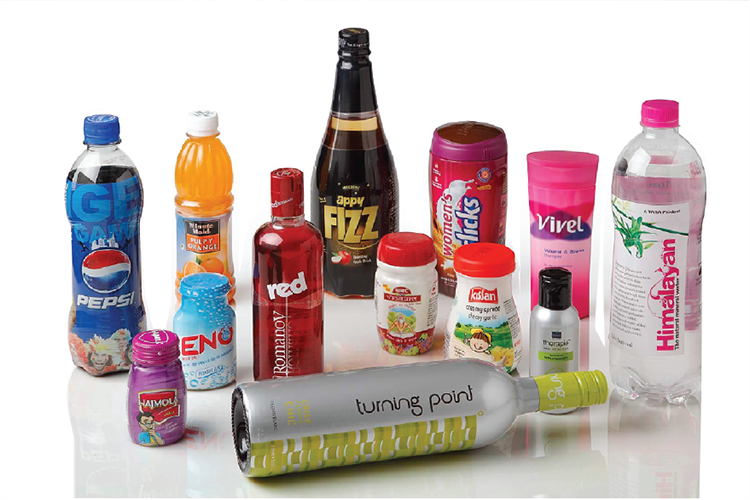 We offer Shrink Sleeves with high end graphic quality using Offset or Roto Gravure printing technology in the following options, depending upon functional and technical requirement:
PVC (Poly Vinyl Chloride)
OPS (Oriented Poly Styrene)
PET (Poly-Ethylene Terephthalate)

Value added features for improving the overall aesthetics of the package and for functional requirements like Tamper Evident Solutions and Innovative Promos could be provided.
We cater to all your labelling needs, right from container evaluation, suggesting the right decorating option while providing a total packaging solution- right from providing the labels, applicators and integration to the client's filling lines.
Europe
India
Thailand
Vietnam
Our product offering:
We offer offset printed shrink sleeves labels (OPS, PVC, PET) representing the best printing technology on the market from its printing quality point of view for a full range of applications to various food & beverages, personal care & household markets and many more.
Matt & gloss combination effects
Perforation
Uni-codes
Hotmelt for cup sleeves
Temper evident security feature
Promotional features
Our product offering:
We offer Shrink Sleeves to a variety of markets ranging from Food & Beverages, Personal Care & Household, Pharma & Medical and many more. Value added Shrink Sleeves can be offered with,
Matt & Gloss combination effects
Premium metallic effects
Tactile effects
Foil stamping effects
Tamper evident security features
Promotional features
With the objective of being a 'Total Packaging Solutions' provider, we also provide custom designed Shrink Sleeve Applicators and Shrink Tunnels. Huhtamaki PPL recognizes that it's important to provide not only right packaging material but also a good quality-packing machine. We focus on designing equipment solutions and material solutions both optimally suited to one another. Today our PMD (Packaging Machine Division) plays an active role in providing systems solutions; to reduce infrastructure costs, improve logistics and greatly reduce "concept to market" lead times.
Our product offering:
We offer shrink sleeves to a variety of markets ranging from food & beverages, personal care & household, pharma & medical and many more. Value added shrink sleeves can be offered with,
Matt & gloss combination effects
Premium metallic effects
Tactile effects
Foil stamping effects
Tamper evident security features
Promotional features
Our product offering:
Printed and pre-form label