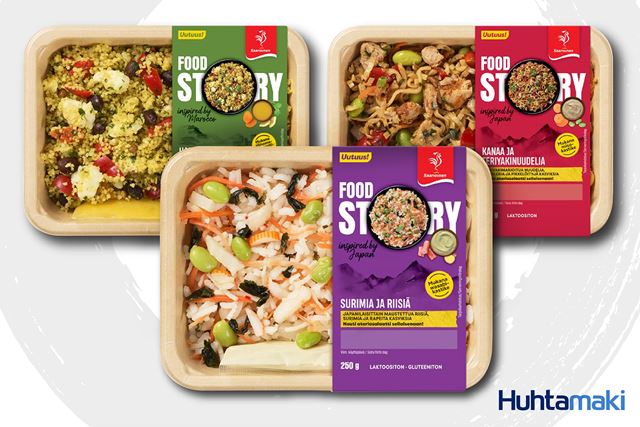 Huhtamaki, a key global provider of sustainable packaging solutions, has launched Huhtamaki Fresh, its award winning fiber-based ready meal trays for the Nordic market.
Saarioinen, the market leader in ready-to-eat food, is introducing the trays for their Food Story product line, the flavors of which have been inspired by the world. The Fresh trays, manufactured by Huhtamaki, are made with natural wood fibers, can be recycled, and are also ovenable or microwaveable.
Huhtamaki has developed the Fresh trays to be an alternative for plastic trays used more commonly for the ready-to-eat meals. Fresh trays are as functional as plastic trays with added benefits as they are both microwave and oven safe. The trays are a unique product developed with a select partners and patented technology. They are also suitable for refrigerator or freezer for longer term storage. The fibers used are from FSC certified sustainably managed forests.
Speaking about the introduction, Katja Heinonen, the Packaging Development Manager at Saarioinen says ''The inspiration for Food Story meals has come from the best international tastes and local spices from across the world. Food Story products make everyday moments an enjoyable experience for all senses. We also want the packaging to communicate this and make the dining moments an experience. As part of our sustainability agenda, one of our targets is to choose packaging manufactured of either recycled or renewable materials whenever possible. We found Huhtamaki's fiber based Fresh trays an ideal choice for our Food Story range and are proud to be the first to introduce the Fresh trays in Finland. Huhtamaki has a strong knowledge on fiber packaging, so it was a natural choice for us to choose them as our packaging solution provider.''
Marianne Jutila, Sales Director for Huhtamaki in the Nordics was proud and excited to introduce Fresh for customers in the Nordic markets. ''There is a growing demand for ready-to-eat meals in the Nordic markets and consumers also feel the need for more variety in home-cooked food. Huhtamaki is committed to help our customers meet their sustainability agenda. By introducing Fresh trays, we now provide food companies the option to reduce the amount of plastics used in their packaging. We are proud to be amongst the first packaging solution providers to offer fiber based ready meal trays with versatile features to customers in the Nordic market.''
Huhtamaki Fresh trays are an ideal alternative to plastic trays used for ready meal packaging and can help you reduce the use of plastics in packaging significantly. Please reach out to our Nordic Sales team to learn more about the products.
Contact: fi.customerservice@huhtamaki.com