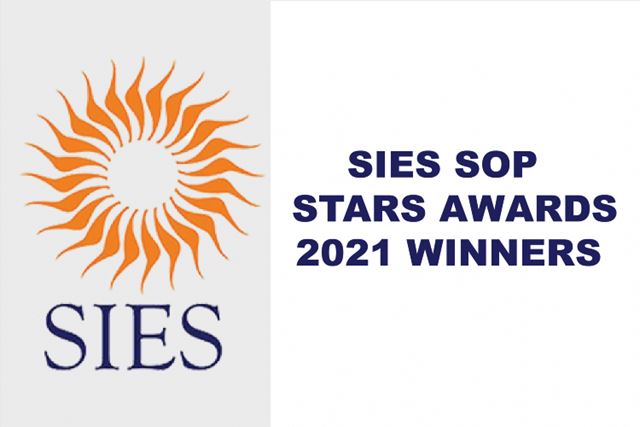 In its 5th edition, SIES SOP Star Awards 2021 has announced two packaging awards to Huhtamaki India for excellence in packaging. Our winning flexible solutions are Side gusseted roasted coffee bean pouch with non-returnable valve & Limited edition variable festive tea packs, focused on enhancing packaging functionality, creativity and end-user experience with technical excellence.
The SIES SOP awards platform honours packaging innovations designed by various Indian companies ranging from Pharma, FMCG to Converter Industries for Packaging Excellence in Development, Innovation, Creativity and Sustainability.
See more details on the pack winners below:
Side gusseted roasted coffee bean pouch with non-returnable valve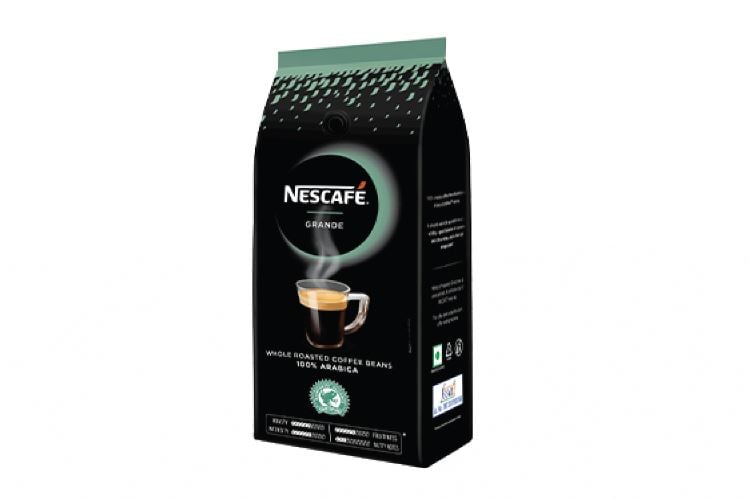 This pack is an elegantly designed long brick or side gusseted pouch for packing 1 kg roasted coffee beans with inclusion of a non-returnable valve (NRV) on the top front side of the pouch. Coffee beans keep giving out large quantities of carbon dioxide for many hours after they have been roasted. The non-returnable valve which is introduced in the pack ensures that while carbon dioxide is allowed to escape, oxygen is not allowed to enter, saving the pack from puffing up or bursting. This packaging ensures keeping the product fresh so that the characteristic wonderful aroma remains intact & provides reliable barrier against oxygen, resulting in retaining the freshness of the beverage for a longer time.
These packs are digitally printed on HP Indigo digital press to cater the to the low requirement or short order quantity. Digital printing of the pouches allowed quick time to market and avoided the cumbersome gravure process which usually involves lengthy & expensive cylinder development process. It's an elegantly designed long brick pack for enhanced consumer experience. The side gussets with registered print elements maximise the branding space and impart premiumness with a long seamless look to the pack.
Limited edition variable festive tea packs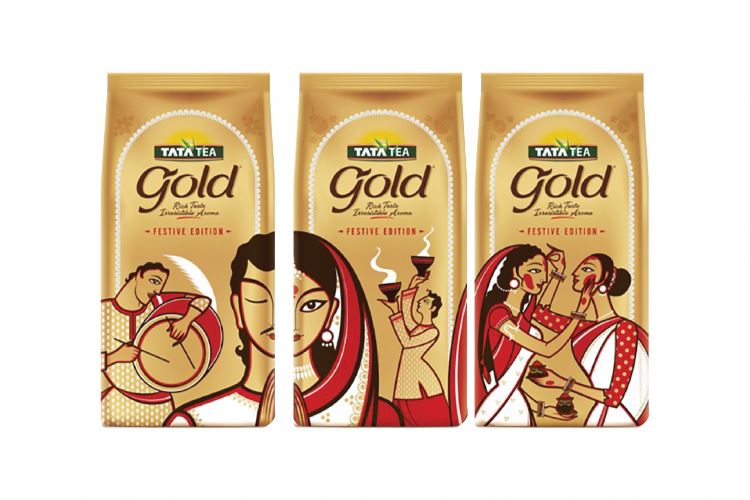 These packs were launched as the festive edition packs celebrating Durga Puja, West Bengal's most popular festival. The design language of the five packs celebrates the essence of the five special days, starting from the sixth to the 10th day of the festival. The 5 variable designs for 5 days of Durga Puja were engraved on a single set of Cylinders representing each day of Durga Puja from Sashti (6th day) to Vijaya Dashmi (10th day). All the 5 pack designs are continuous in nature and when placed adjacent to each other become a seamless one large canvas for branding in retail shelf. All 5 variable pack designs were produced with matching halftones and each design contained variable graphics with intricate elements bringing out the true essence of the festivities representing significant events for each festive day starting with arrival of Goddess, to the beats of dhol and ending with sindhur khela. This new packaging has a beautiful storytelling and visual appeal, paying homage to the traditional elements associated with the festivities.