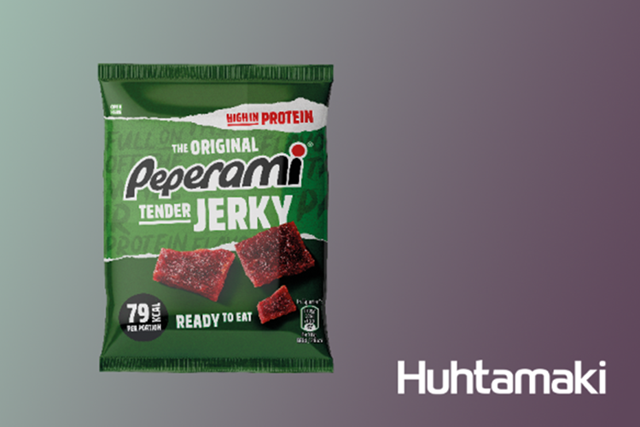 On an EMEA level, the course for a sustainable future is set on high-quality recycling. Jack Link's, a family-run U.S. company and manufacturer of meat snacks, is pursuing sustainability and environmental protection in EMEA by working to switch to greener packaging for the European market, among other things.
The company, known for its snacks such as Bifi, Peperami, and Jack Link's beef jerky, is switching the material previously used for its 4-rim sealed pouches for part of its portfolio later this year: from traditional PET/aluminum/PE to recyclable PP mono-material.
Together with Huhtamaki, work has been carried out in recent months on the further development of VFFS packaging, which must have optimum barrier properties with identical processing criteria.
In addition to its improved recyclability, the mono-PP material impresses with a 59 % reduction in its CO2 footprint. By using mono material, the packaging can be sorted more easily in the recycling stream and does not need to be separated further.
"Thanks to the long-standing cooperation with Huhtamaki, we have been able to speed up the development, so that we are already planning a European market launch in autumn. The use of mono-material is an essential step for us to combine recyclability with food safety," explains Antonine Kandelaars, Procurement Manager EMEA, Jack Link's in Europe. "In this way, we want to set an example both in our industry, with our customers and show that functional packaging can also be environmentally friendly."
Eliminating aluminum adds another benefit; Jack Link's in Eu-rope saves 27 % in weight on these packaging formats. Another sustainable outlook: In addition, aluminum-free mono film for cold-formed thermoformed packs is in advanced development and planned for future use.
Manfred Marz, Head of Product Development, Huhtamaki Flexible Packaging adds: "In the near future, VFFS packaging will also be used for pasteurized vegetarian products, which is another challenge for the film in terms of heating in a water bath. We are of course happy to accept this challenge."