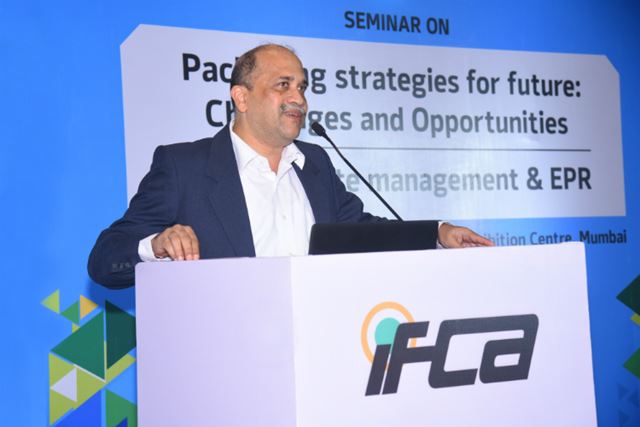 From Waste to Resource, Let's Loop!
"There is no such thing as "away." When we throw anything away, it must go somewhere!"
Launching of Huhtamaki blueloop platform aimed to demonstrate our serious intent on developing sustainable packaging and collaborating with other like-minded partners and associations to take on ambitious sustainable actions. Geared with ready recyclable packaging solutions against the backdrop of a progressive ecosystem for recycling, we've succeeded in encouraging our customers to think more flexibly and responsibly.
In October'19, Huhtamaki India offered another shot of insight and encouragement through guest-speaking at the IFCA-Propak Seminar, organized in conjunction with Propak India, a FMCG packaging and processing event held in Mumbai. The seminar attracted over 200 professionals from the packaging and end-user industries to discuss "Plastic waste Management & Extended Producer Responsibility (EPR)" as well as "Packaging Strategies, Challenges & Opportunities for the Future"
Mr. Sunil Bhagwat, Vice President CI Flexo and Tube Laminates, Huhtamaki India took on responsibility of busting myths relating to recyclability of multi-layer packaging or MLP while offering more clarity on the lifecycle advantages of flexible packaging over other alternatives. Giving the audience a comprehensive view of existing and experimental EPR actions (Reduce, Reuse, Recycle) being undertaken as a result of governmental legislation, he further presented a road map of how our industry could transition from packaging waste generation to waste prevention and recovery.
We introduced the audience to our collaborative platform for recycling - Huhtamaki blueloop – which serves to improve the waste to resource loop with efficient and recyclable packaging design. Mr. Bhagwat finally concluded with a sincere reminder that "there is no such thing as away." As responsible manufacturers, it is our duty to ensure that waste stays in the loop through more recycling awareness and collaborations for good!