Cereal packaging
New opportunities are now available for cereal brands to grab a crunchier share of the breakfast pie. With busy lifestyles, increasing disposable incomes and evolving consumer preferences, traditional meals are making way for convenient and healthy breakfast cereals along with other snacking alternatives.
Our pack solutions for fortified cereals and snack mixes are designed to help brands enhance impressions and carve niche recall for their products, beyond breakfasts. Experiment with improved functionality through zippers and sliders for reclose-able convenience, high-barrier with pack transparency for product previews, light-weight portability and brand interaction for further consumer engagement.
We even have a porfolio of enhancement solutions for cereal packaging to convey exclusive product benefits through unique shapes, improved aesthetics and textures including matt & gloss effect, metallic effect, holographic effects, glow-in-dark and fluorescent inks, paper-based materials, lacquers for soft touch or grainy effects and so on.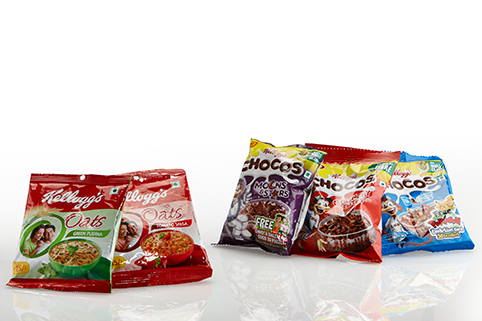 Our product offering:
Mono-material & polyolefin-based recyclable pouches & laminates
Roll-form laminates and pre-made pouches
High barrier laminates
Pouches with closures like zippers and sliders
Easy Pour Pouches for easy and controlled product dispensation
Shaped pouches
Flow wraps or pillow pouches for breakfast cereals
See-through packs
Bag in box or inner liners