Pre-made pouches & bags
A look around the store-shelf would reveal just how popular flexible pouch packaging has become!
They're portable, reusable, light in weight & sustainable. Available in multiple styles and formats, from shaped to stand up pouches, they add versatile and eco-friendly value along with consumer convenience and appeal.
From gourmet popcorn to traditional ingredients and spice packaging, we help brands deliver exciting and guilt-free consumer experiences with a comprehensive portfolio of pre-made flexible pouches and barrier bags, serving a host of dry and liquid product applications. Depending on product nature & sensitivity, our range is designed with reliable configurations of innovative packing materials to serve protection, shelf-visibility and recyclability needs.
Be it organic namkeen packaging or specialty coffee, our paper-based stand up pouch with zipper enables product exclusiveness with a premium and natural appeal while extending product protection and functionality. We even offer customized spouted packs, velcro and ziplock pouches along with other closure formats to maintain ease of use and secure resealability.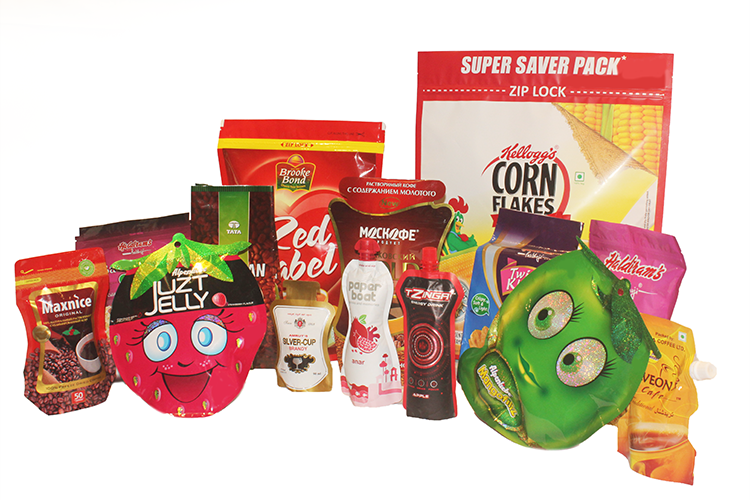 Apart from food, beverages, personal care and household, we even serve industrial and commercial applications with bulk recyclable and barrier bags. Connect with us for innovative ideas on to how to revamp your product packaging for more consumer-friendliness and less hassles.
Our product offering
- Film-to-film, film-to-foil, paper-to-foil, paper-to-film laminations
- Side and bottom-gusseted pouches
- Stand up ziplock bags
- Shaped pouches with special spouts & closures for any application
- 5 & 6 panel pouches for dry fruits packing, tea or rice packaging
- Display pack – a secondary display holder for stick or unit packs
- Easy pour pouch for convenient dispensation of granular and dry food products
- Bottoms Up pouch for easy and clean evacuation of viscous products
- 3 side seal pouches with zipper
- Refill packs with spouts for wide-ranging applications
- Retort pouches for shelf-stable food and milk-based beverage packaging