United Arabian Emirates
Huhtamaki Flexibles UAE (Positive Packaging United (M.E.) FZCO and Huhtamaki Flexible Packaging Middle East LLC)
Huhtamaki Flexibles UAE is one of the largest flexible packaging converters in MENA (Middle East and North Africa) Region and have state-of-the-art manufacturing facilities in Jebel Ali Free Zone, Dubai and Al Ghail Non-Free zone, Ras Al Khaimah. Our plants have the most modern rotogravure printing facilities with capabilities of solvent less & solvent based or water based lamination capabilities, wax or hot melt coating, pouching, embossing and ice cone making to be able to offer a wide range of products to our customers. The current installed capacity is 24,000 MT per annum.
Our history add_circle_outline
Our first flexible packaging unit was established in the year 1992, in Jebel Ali Free Zone, Dubai with the vision of meeting packaging requirements of the local market in United Arab Emirates (UAE) and to target Middle East markets in the future.
In the year 2008 Positive Packaging Group acquired this unit and established itself as a leading regional player in the Middle East and Africa market. In 2013, a greenfield state-of-the-art manufacturing plant was built in Ras Al Khaimah - an emirate of UAE to serve its growing customer base. As a part of its expansion plan, Huhtamaki Group, headquartered in Finland, acquired Positive Packaging in February 2015.
The UAE operations grew its business from 6,000 MT per annum in 2007 to 24,000 MT per annum in 2015 and presently, Huhtamaki UAE is amongst the leading flexible packaging converters in the region servicing the Middle East, African and European markets.
Our presence add_circle_outline
Manufacturing sites
We have two state-of-the-art manufacturing sites in United Arab Emirates which caters to the Middle East, Africa, Europe, Asia and North America markets.
Our head office and one of our manufacturing plants, Positive Packaging United ME FZCO, is located at Jebel Ali free zone and we manufacture and export range of flexible packaging products to the markets of Europe, Asia, Africa and North America from this site. This unit is our oldest plant also serving the local market for the past 15 years.
Our second manufacturing facility, Huhtamaki Flexible Packaging Middle East LLC, is based at Ras Al Khaimah and is one of the most modern and state of the art flexible packaging manufacturing plant of this region. Our products manufactured at this plant serve the markets of Middle East, Africa, Europe as well as North and South America. This plant is equipped with the most modern machines and is environmental friendly manufacturing site due to the green initiatives considered while the designing the plant initially.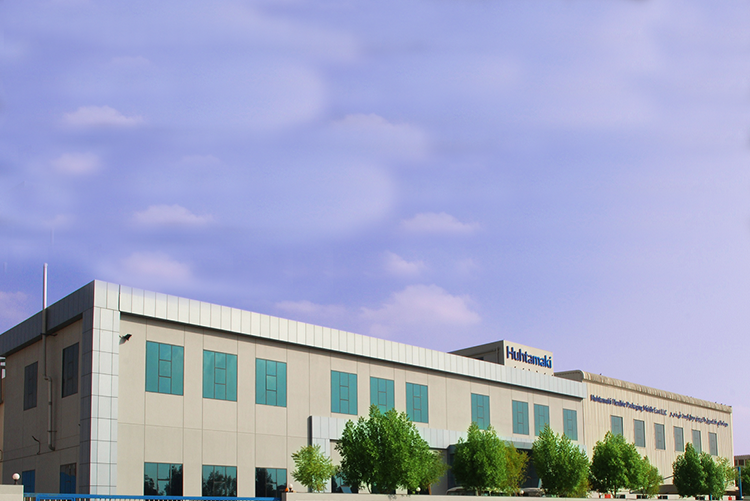 Cylinder manufacturing site
We are aware that artwork processing and prepress activities are the back bone of the rotogravure printing technology and is one of the key areas as far as customer's brand image is concerned.
We have our own cylinder manufacutring site, Primetech ME FZE, which can manufacture about 1800 cylinders per month. The entire cylinder making facility is automatic and is controlled by sophisticated technology with precision controls for generating high quality gravure cylinders.
Our sales offices
We believe in being close to our customers and to their manufacturing plants, so that we can understand them well and design a packaging solution which meet their market requirements. Taking this thought as our motto, we have sales offices spread across Middle East, Africa, Europe and North America who can assist our customers to decide and meet their packaging demand. Our customers can reach our sales offices in Dubai, Cairo, Nairobi, Johannesburg, Durban & Ghana and through our associate offices in USA and UK.
Purpose & values add_circle_outline
It's important to us to do the right things by each other and for our customers. Wherever we work, our values guide our behavior every day.
We treat our world with respect
• We care about each other, the environment, and the community
• We welcome diversity and recognize it as a source of innovation
• We encourage people to speak up, question, and develop new ideas
We know our business
• We're committed to understanding our customers and consumers
• We value integrity and open communication
• We learn from everything we do
We like to get it done
• We deliver on our promises
• We trust and empower individuals
• We thrive on our entrepreneurial spirit