Pharmaceutical packaging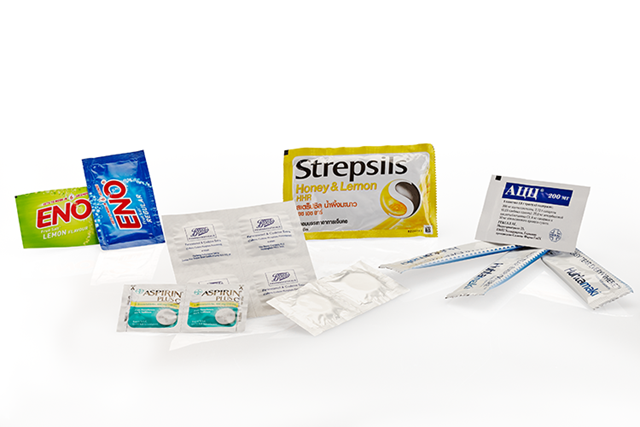 When it comes to healthcare products, the integrity of your packaging is paramount.
Comfort and convenience where it's needed most
We offer broad experience in laminates for classical application-forms like stick packs, sachets and strip packs.
By providing clever solutions, we ensure that our customers gain additional value in bringing these classical formats to a new stage. An example of this is Easy Tear Everywhere - it is an innovative material that can be opened smoothly with no tear notch or perforation required and without compromising reliability. In addition we provide CRSF (child resistant senior friendly) solutions, convenience features (e.g. peel, easy opening), design optimization at the Point of Sale and finally down gauging.
Europe
India
Thailand
UAE
Vietnam
Our product offering:
Child resistens senior friendly (CRSF) solutions
Sachets
Stick packs
Strip packs
Our product offering:
Primary packaging laminates
Sachets for nutritional powders
High barrier laminates for powdery products
Our product offering:
Packaging for tablet, capasules and powdery products
Medicine is the one of necesary thing in our life. The fully realiable packaging solution is required in this industries to offer maximum protection for products designed to care for human's health. We supplies reliable, high-quality packaging solutions for this highly sensitive segment and the hygienic production processes are offered to meet the required standard by the medical sector.
Our product offering:
Sachets for nutritional powders
Stickpack packaging solutions for hygroscopic products
High barrier laminates for powder packing