Paper hot cups and lids
We have a broad range of convenient single wall and multi-wall paper cups for hot beverages. Combine cups with our ergonomic sip thru ids for the perfect on-the-go experience.
Paper cold cups and lids
Our paper cold cups are available in a number of attractive designs or can be customised with your own design or logo. Coupled with the cold cup lids, they are great to enjoy cold drinks on the go.
Paper containers and lids
Paper food containers are a sustainable packaging choice for take away food. Our range is an excellent choice to serve various foods such as salads, soups, noodles, pasta and ice cream.
Molded fiber plates and bowls
The Chinet brand of plates and bowls are sturdy, lightweight and sustainable options to serve food. The range also food containers and trays in various sizes and forms.
Fluted packaging
High quality fibre based fluted packaging solutions for hot food to go, bakery products, ready meals, cosmetics and confectionery.
Folding carton packaging
Folding carton clamshells, fry cartons, food boxes and retail ready packaging for food, household goods and fast food markets.
Plastic cold drink cups and lids
Shakes, smoothies, blended ice coffees and cold drinks get served in style with our broad range of clear plastic cold beverage cups and lids.
Plastic containers and lids
Look no further for various fit for purpose plastic containers from environmentally friendly Bioware containers to microwaveable eat-in-it and multifood ranges.
Vending
Our selection of vending cups come in a range of sizes, styles and materials and include paper and plastic vending cups designed for vending automats and table-top vending machines.
Accessories
Every superhero needs a sidekick and our product range includes an extensive collection of accessories like stirrers, straws, cutlery and lids made from various materials.
Wooden Cutlery
Future Smart wooden cutlery made from renewable resources, our wrapped cutlery provides safe and hygienic way to serve food. Made with wood from certified sustainably managed forests. Wrapped wooden paper cutlery eliminates the use of plastic packaging.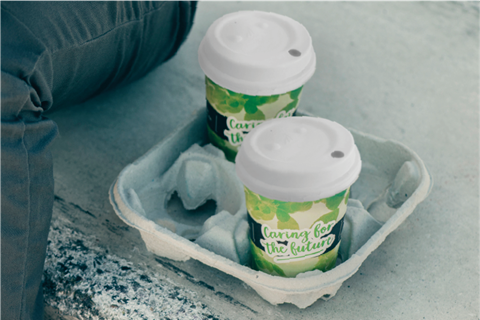 Future Smart™ Moulded Fiber Duo Lid
We have used our best technical know-how to be able to supply you with the perfect lid for your Huhtamaki paper cups. With a unique Huhtamaki design and perfect functionality, our Moulded Fiber lids are suitable for both hot and cold drinks.