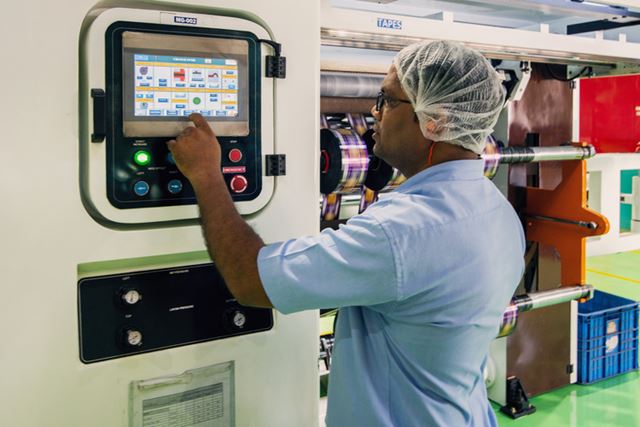 At Huhtamaki India, we believe in protecting food, people and the planet
Our ambition is to be the first choice in sustainable packaging solutions, enabling wellbeing and convenience for people around the world. Our objective is for 100% of our products to be designed to be recyclable, compostable, or re-usable.
Our 2030 sustainability program includes carbon-neutral production and science-based emission targets. We embed sustainability in everything we do. For us, sustainability means considering the impact we have – both positive and negative – throughout the value chain, in terms of the environment, social responsibility and governance.
We believe that the value of packaging is more than its impact on the planet and that we can make a difference in the food system value chain in several ways. We aim to minimize the negative impacts of our operations and products on the environment while maximizing the positive impacts on our stakeholders, consumers and society.
Our sustainability ambition at a glance
We see sustainability as a key differentiator. Our work in the Packaging for Good program, launched in 2018, has been the founding block for our 2030 sustainability ambition. Going forward, delivering on our 2030 sustainability ambition will set the pace and framework for how we embed sustainability across our organization.
Our sustainability ambitions are in line with the ten principles of the UN Global Compact initiative, which covers the areas of human rights, labor, environment and anti-corruption.
The UN Sustainable Development Goals (SDG) set out a holistic approach and areas of focus. We recognize their value ensuring a sustainable, resilient and inclusive future in which no one is left behind.
In 2020 we reviewed our contribution to the SDGs and identified the areas within the 17 SDGs most relevant to what we do. This resulted in the alignment with three main goals and two supporting goals as a basis for our 2030 sustainability ambition.
Defining where we have most impact in the Sustainable Development Goals:
By assessing the relevance and importance of the issue to our value chain and our stakeholders
By identifying our potential to drive positive change and mitigate possible negative impacts together with our stakeholders across the value chain
By outlining key actions which we can implement directly to make a difference and drive change.
Our three main Sustainable Development Goals
SDG 8: Promote sustained, inclusive and sustainable economic growth, full and productive employment and decent work for all
We continue to make safety and how we engage with our people to reach their full potential a top priority. We believe that providing a healthy and safe working environment, respecting human rights and maintaining a fair, diverse and inclusive workplace are instrumental in advancing sustainability throughout our value chain.
SDG 12: Ensure sustainable consumption and production patterns
We support the sustainable use of natural resources by:
Developing safe resource-efficient products that enable wellbeing and convenience
Designing these products to be recyclable, compostable or reusable
Developing our processes to ensure responsible use of water and other natural resources
SDG 13: Take urgent action to combat climate change and its impacts
We are committed to set science-based carbon emission targets by 2022 and actively encourage our suppliers, distributors and customers to also sign-up and set their targets accordingly. We believe that packaging that protects the product, reduces waste and enables efficient recycling will make a great contribution towards a sustainable future. It also will help to transition to a climate neutral society. Our ambition is to achieve carbon neutral production by 2030.
As part of our due diligence processes, we also identify and evaluate climate change risks to the business and take appropriate mitigating and adaptive action.
Our two supporting Sustainable Development Goals
SDG 6: Ensure availability and sustainable management of water and sanitation for all
We focus on managing and mitigating our impacts on water resources in our water management plans. We safeguard water ecosystems especially in the water stress areas.
SDG 15: Protect sustainable use of terrestrial ecosystems and sustainably manage forests
We use certified fiber to promote biodiversity and best practices in sustainable forest management.
Giving back to society
The Indian government mandated that all companies invest 2% of their profits for Corporate Social Responsibility (CSR) activities, with the focus on social and environment projects, health, education and women & child development, among others.
At Huhtamaki India, we are part of the communities in which we operate and support many local activities that contribute to improving the wellbeing of local society. We have embedded sustainability in our manufacturing operations and more importantly, we take care of the environment in all our activities, driving high ethical sustainable practices in all we do.
With Blueloop sustainability, we are shaping the future of flexible packaging. Huhtamaki's Blueloop is a collaborative platform for making flexible packaging circular. Together, we work with our customers and partners to develop the knowledge and solutions to accelerate the adoption and scaling of circular flexible packaging, shaping the future.
Designing for circularity and partnering for change in waste management
Huhtamaki India continues to invest in the future – in technology and innovation, in people and in the environment. We are utilising Solar Panels in India, and as of now, we have installed state-of-the-art Rooftop Solar Panels to power our plants in four locations in India, Guwahati, Daman, Silvassa and Taloja. This is a small step forward in renewing the Earth and its finite resources; our quest towards sustainability and in promoting the use of Renewable Energy.
Funding support of €1 million in Food System 6 was provided to run a start-up accelerator program to support the development of 8 early-stage circular economy innovations. The aim was to help ideate innovative solutions in variety of areas, including surplus & waste management, agtech, upcycling, sustainable packaging and materials.
Huhtamaki has partnered with WasteAid for pilot projects to provide education and training on waste management and circular systems. A donation of €0.9 million has been invested in a 2-year program in India, Vietnam and South Africa to support development of local circular economy networks of key stakeholders and local entrepreneurs in each hub.
As part of the circular economy network (CEN) initiative, Huhtamaki and WasteAid initiated the first start-up project – the riverbank clean-up of the River Brahmaputra in Guwahati, Assam. The community event on Sunday, the 07th March 2021, had 130 participants assisting in the cleanup efforts. The waste that would have ended in the riverbank was collected, segregated, recycled, and sent to be remodeled into bricks and other items. This is reflective of a 'closed loop'.
The Mithi River Project, Mumbai aims at cleaning up this clogged river. Huhtamaki has donated €600,000 to fund a project that aims to stop the flow of plastic waste into the Indian Ocean from the Mithi River. This project is run by a global partnership between the United Nations Technology Innovation Labs (UNTIL), VTT Technical Research Centre of Finland, RiverRecycle and Earth5R.
We believe in protecting food, people and the planet, enabling wellbeing for people around the world. We are grounded in our values of Care, Dare, Deliver by embedding sustainability in everything we do.