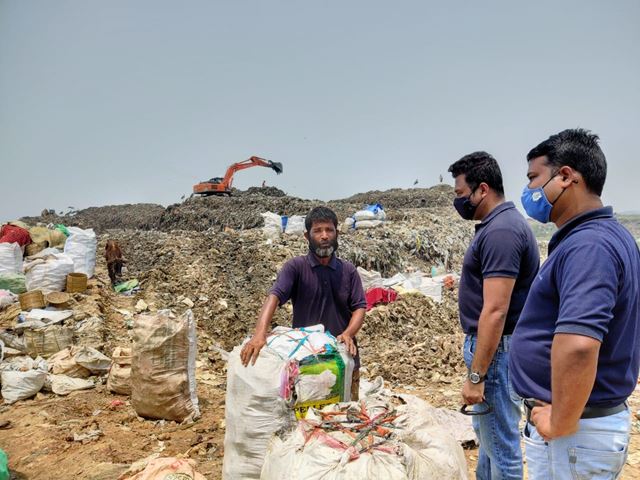 Huhtamaki and international charity WasteAid are delivering a €0.9 million project partnership to support the development of local circular economy networks (CENs) of key stakeholders and local entrepreneurs in Vietnam, India and South Africa for a two-year period.
As part of the CEN initiative, representatives from Huhtamaki India and WasteAid visited a dumpsite in Boragaon, Guwahati to understand the process of waste segregation in the city and the associated infrastructure.
The Boragaon dumpsite holds more than 70% of the total waste generated in the city, with about 700 tonnes of mixed waste added each day. The mixed waste consists of organic material, plastic, metal, glass, paper and even medical waste are all dumped together. It is estimated that between 100 and 150 families who live around the site, earn their living by scavenging through the site. Such informal work is undertaken with little regards to safety, health and hygiene and the potential for exposure to toxic waste and chemicals.
The Huhtamaki and WasteAid initiative aims to educate and raise awareness on the benefits of waste segregation and recycling.
Mr. Neelayan Dass, Manager-HR Administration, Huhtamaki India, Guwahati, said, "The visit has helped us to understand the enormity of waste and its effects the city is facing. If it was not for the informal sector, collecting plastic waste and enabling recycling, the height of the Boragaon dumpsite would have been much more."
Closing the loop on waste handling and circularity will enable Guwahati to reverse some of the harmful environmental and social consequences caused by improper waste management. Segregating waste at home is recommended as the way to prevent household waste from ending up at the dumpsite. By separating organic waste, plastic waste and other dry recyclables, which can be composted, recycled and upcycled, residents can become part of the solution.
Huhtamaki and WasteAid collaborate in the CEN's Zero Waste Cities Challenge and aim to find two innovations to help close the loop on waste in Guwahati. The contest will award the winning innovations €10,000 each and provide up to eight weeks of tailored business support, accelerating the city's transition to a more circular economy.