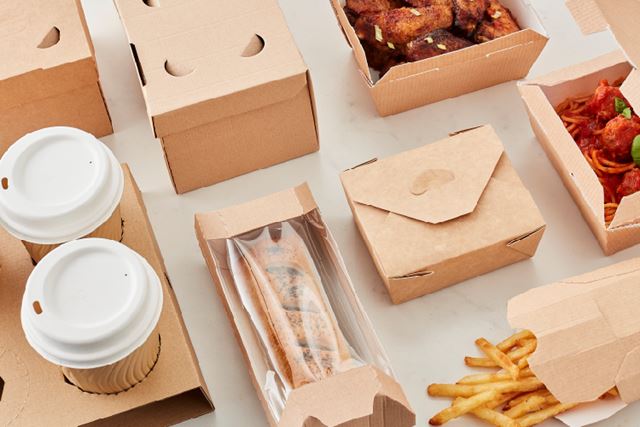 Packaging that delivers – Huhtamaki's new portfolio for home delivery
Addressing changing patterns of consumer behavior and the increasing demand for sustainable and functionally superior packaging for food and drink, Huhtamaki has launched a consolidated range of over 100 products for food and drink on-the-go, specifically designed to serve the needs of home delivery and takeaway foodservice operators.
The home delivery range comprises established, popular and fast-moving products and also features many innovative UK manufactured fiber-based products using PFAS free materials. New folded carton products have been added to the range and Huhtamaki's market leading 'Taste' fluted packaging portfolio has been extended. Other popular 'Taste' food containers have been updated to improve performance and to deliver stronger sustainability benefits. Plastic content has been reduced by 33% in comparison with the previous versions.
A comprehensive product catalogue 'Packaging that delivers' supports the range and is available online. It presents Huhtamaki's packaging based on the types of food it can be used for, by functionality (for the oven, freezer or microwave) and by the delivery or service channel that operators are using: hot-hold, delivery or on-the-go. The catalogue is easy to navigate and provides 'at a glance' iconography to inform buyers of the product credentials, materials and plastic content along with guidance on responsible disposal, enabling easy and direct comparison of products within the range and with those from other manufacturers.
"Packaging plays a significant role in food safety and convenience. Huhtamaki is committed to making packaging more circular and we are embedding sustainability in everything we do. All of the products in this range have been carefully chosen to present a variety of serving solutions. There is a strong focus on UK manufacture and on fiber-based packaging within the range, sourced from sustainably managed forests. Plastic has been reduced or removed wherever possible," says Ciaran Doherty, Vice President, Huhtamaki Foodservice UK.
Huhtamaki is committed to protecting food, people and the planet, enabling wellbeing and convenience for people around the world. We work to serve better, smarter and more sustainable packaging that delivers:
All your home delivery and take-away needs
Superior functionality, e.g. temperature retention (hot & cold), leak resistance
Stronger sustainability benefits
For more information on Huhtamaki's new home delivery range and to request a copy of the 'Packaging that delivers' catalogue, please visit here