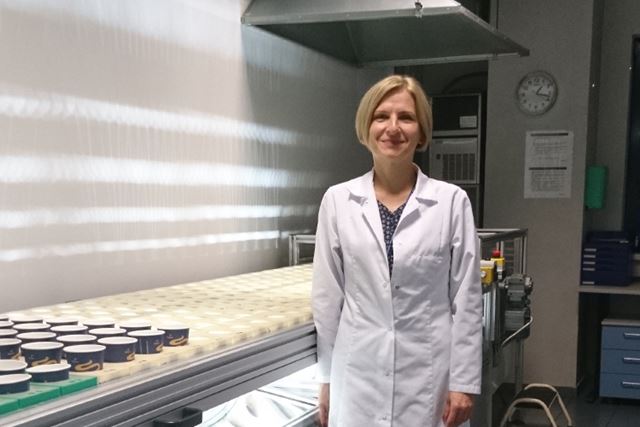 "I never actually had a dream job in mind", says Katarzyna Gruszczyńska. But after her impressive career at Huhtamaki so far, one might say, that even if she was not aware of it, a career was calling out to her.
"I started work at Huhtamaki — although back then we were still called Polarcup — after one of my friends pointed me towards a job advert. I applied for a Receptionist position because I could easily connect it with my studies at university. Back then, I did not have any fixed career plans, but I was impressed by how Huhtamaki felt modern and set for growth", Katarzyna recalls.
She did not even spend six months in her first role, when she received an offer to join the Sales unit. Fueled by an internal need to develop her skills and expand her knowledge, Katarzyna became a Purchasing Specialist. In 2005, she moved to a Purchasing Leader position. But even then, she still had her sights set on new challenges she could face and areas in which she could learn and grow. And in 2012, she took another bold step, taking on a brand new position in the Quality Assurance unit.
"Right from the start I could sense that at Huhtamaki my efforts and potential were noticed, and I started feeling more confident. My responsibilities gradually grew from less to much more demanding, while I gained more experience. After a few years, I became more aware of how essential quality-related issues are for a finely working factory. And can you imagine, I got the chance to start work in Quality Assurance!" says Katarzyna.
Today, as the Quality Assurance Manager, and plenipotentiary for the Integrated Management System, Katarzyna's responsibilities are broad. She oversees matters related not only to product quality, but also work safety and sustainability, leading the QA unit in two locations in Poland and being responsible for the performance of its teams. She believes that the evolution of her career was also influenced by Huhtamaki's internal culture.
"Our company provides opportunities to develop and advance in its ranks and when looking to fill a role, begins with internal recruitment. If you want to spend your career with Huhtamaki, you have the chance to do so. Also, throughout my career, I could always depend on my supervisors. They provided me with all the support I needed, no matter whether an issue was big or small", Katarzyna explains.
A passionate leader with a strong team
As Katarzyna puts it, her over 20 years at Huhtamaki have been driven by her intuition and courage, but also the support she received and opportunities she has taken.
"I've always felt my instincts and willingness to take risks have guided me well. But I'm also happy about being able to reach out to colleagues and rely on their knowledge and experience in areas outside of my core expertise. I am never afraid to listen and discuss relevant issues and to act based on findings", notes Katarzyna.
Her former and current supervisors also provide her with a benchmark for working with teams, while she cherishes honesty, sincerity and upholding the highest quality standards as values to follow. All of this culminates in how Katarzyna perceives her role as a manager. She gladly shares her experience and knowhow with a new generation of colleagues, but is at the same time not afraid to be open-minded and try out experiences from her passion for journeys in her workplace.
"For example, in South America, I especially liked how people are open and smiling, so now I try to be even more positive and spread warm feelings. I believe you should always be friendly and smile at others", Katarzyna concludes.