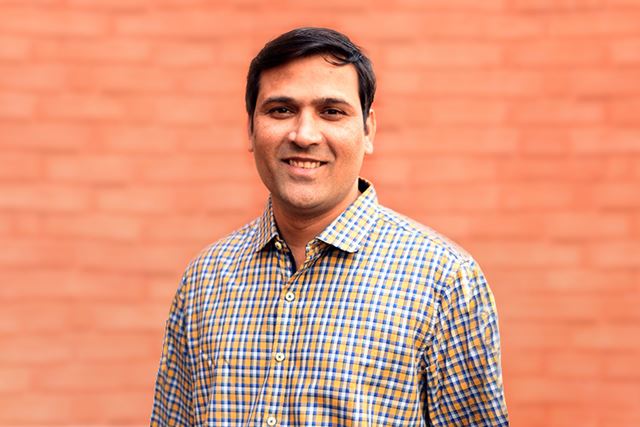 A 1997 campus interview was the start of Ruturaj Kamthekar's career at Huhtamaki. That first meeting at Ruturaj's college launched a career filled with opportunities.
"When I was hired, the company was planning to invest in a new technology for flexographic printing. They saw that I was a good fit for this new project, so I was trained to install and run the new machine. In one year's time, I was leading a section of 15–17 people working with the machine. They literally allowed the new kid in the company to run a section that was strategically important and had just been started", Ruturaj recalls.
Different and growing challenges
And Huhtamaki has continued to challenge Ruturaj. Educated as a printing technologist, his responsibilities, which started with running the printing machine and leading the section, have increasingly grown to setting up and running a new pouch making section, managing a large manufacturing operation as production head, working in Innovations and Product development in India and now leading the Global Product Development process. Throughout his journey, Ruturaj has gathered broad experience in technical areas, but he has also expanded his skills further.
"Starting up as a printer, I settled into the organization while learning to run a machine, matching colors, learning people skills. Later, I led projects that have required me to make business plans regarding investments, sales and manufacturing as well as understanding the market and customers. In addition, one of the most empowering phases of my career was running a large manufacturing operation. Leading a team of over 350 professionals really helped me to connect with different kinds of people and provided insights on how they think and what works with them."
Starting in 2018, Ruturaj has had a global role at Huhtamaki. As Product Development Director at Huhtamaki Flexible Packaging, he streamlines the product development process across business units, works on intellectual property matters and champions collaboration between business units, among other responsibilities. He praises Huhtamaki for encouraging people to move forward.
"At Huhtamaki, they really scan through the entire organization for people, whenever a new position opens up. Huhtamaki has offered me responsibilities across verticals, as I have had the right profile, and they did not worry about my background or where I am based. They gave me the opportunities and shared the risk with me", Ruturaj commends.
Attracted by openness and shared values
When he started with Huhtamaki, Ruturaj would never have thought he might reach the level that he is at today. He attributes his success to the opportunities and the coaching the company has provided him as well as his own perseverance and willingness to learn new things, take risks and move into new areas.
"As an engineer, I always enjoy being exposed to new technologies. During my factory operations days, I spent long hours close to machines, and just being next to them teaches you a lot. Alongside that, I like working in cross-functional teams, as it gives me fresh ideas and perspectives. I think that if you want to move on in your career, you really need to have self-motivation and passion about your job and ensure your own path."
In addition, he thinks that when building a career, it is important to be open to suggestions, questions and respect for others' points of view. Ruturaj smiles at still being in his first job after 21 years. When asked to name the best thing about his first – and so far, only – employer, the reply comes quickly:
"Huhtamaki has values that overlap with my personal values: empathy, sharing and building careers. I cherish the knowledge- and people-driven culture. In addition, I like the regular internal communications, as they reveal an open attitude, where everyone understands the strategy and direction in which we are moving."