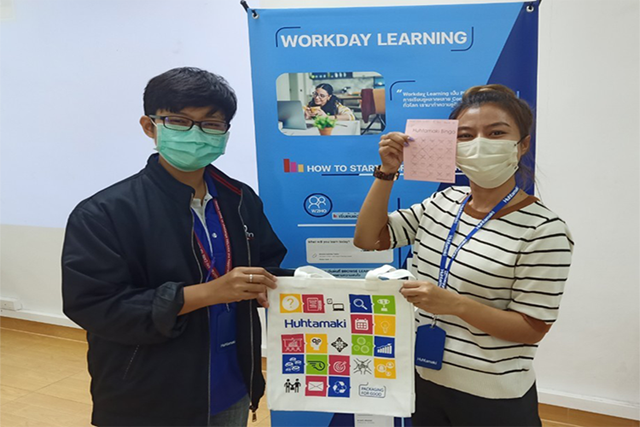 "For our success as a company and as individuals, it is important to make sure that our knowledge, skills and competencies are up to date, helping us deliver on our 2030 Strategy", said Hanna Heikkilä Vice President, Organization & People Development at Huhtamaki.
"The world of work is changing, and we need to invest in our development by building our knowledge and learning new skills. Decide your development direction and create your favorite mix of areas to learn and grow", she added.
Huhtamaki's Global HR and Communications teams organized an engaging five-day Global Week of Learning event which provided employees an opportunity to gain a deeper understanding of these five strategic topics: lifelong learning, digitalization, sustainability, innovation and productivity. An insightful combination of online and on-site activities, the hybrid Global Week of Learning invited the over 19,000 Huhtamaki employees across our 38 countries to participate in the various sessions either live or by tuning into the recorded session afterwards. Each day covered one theme and the week featured over 25 valuable online sessions in total, with a total audience of 1,479.
Day 1: Lifelong Learning
The opening day focused on the value of lifelong learning. "One of our strategic priorities is developing our talent. We believe that continuous learning and development are foundational for our long-term success", stated Ingolf Thom, Executive Vice President Human Resources and Safety
Day 2: Sustainability
The second day zoomed in on sustainability, Thomasine Kamerling, Executive Vice President Sustainability and Communications, highlighted the relevance of sustainability to Huhtamaki's 2030 business strategy: "Today's food eco-system faces serious challenges. Twenty five percent of global greenhouse gas emissions come from food systems and one third of the food produced is lost or wasted. This is where sustainable food packaging solutions can help deliver safe, hygienic, affordable and accessible food to everyone, everywhere."
Day 3: Digitalization
Fredrik Davidsson, Executive Vice President, Digital and Process Performance at Huhtamaki focused on the importance of learning about digitalization. "Digitalization is one of our strategic priorities to drive growth and continue to have an impact on the future of the food packaging industry. It's an enabler to improve operational performance, explore new growth opportunities and strengthen business models. Our ability to keep our digital skills up-to-date is a must for us to be a successful company", he added.
Day 4: Productivity
Thomas Geust, Chief Financial Officer at Huhtamaki, emphasized the value of productivity and opened the day by providing a definition of productivity under the "3Ms": 'machine', 'material' and 'man' productivity.
Day 5: Innovation
The final day highlighted the role of innovation in organizational growth. It featured a message by Marina Madanat, Executive Vice President, Strategy and Business Development at Huhtamaki, who stressed how our strategy will build on the trends that are driving change for our customers and for us as individuals. Many exciting webinars and talks including celebrating our 2022 innovation launches and discussing the power of the Huhtamaki Innovation Community were the some of the highlights on Friday.
Ivy Jiang, CS Representative, Greater China: "The learning week was fantastic. The courses were seamlessly connected with my work and also provided me with a great opportunity to expand my knowledge. I will leverage what I have learned in the courses to further communicate with the customers. I like these kinds of sharing sessions and I hope we can have more in the future."
The Global Week of Learning was widely acknowledged as a milestone in enabling employees to gain a deeper understanding about the latest thinking, trends and how they can keep their skills up to date under the five strategic topics: lifelong learning, digitalization, sustainability, innovation and productivity. It highlighted the value of continuous learning while building awareness about Huhtamaki's strategic capabilities driving a high-performance culture, aligned with our values Care Dare Deliver.