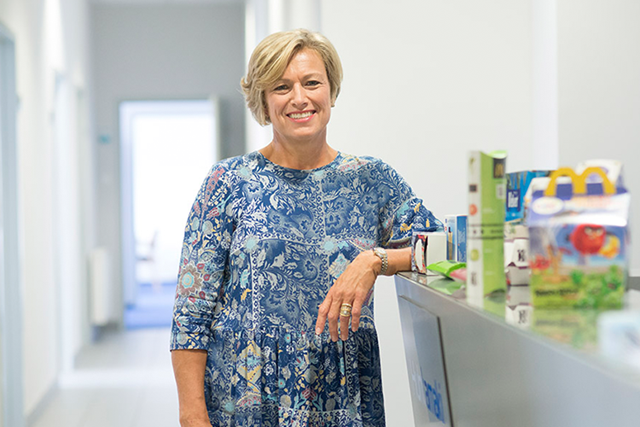 "I really see my position as a blank piece of paper, on which to draw up a blueprint to ensure we have the happiest possible customers, who will only consider Huhtamaki as their first choice." So says Catherine Tipper, the Customer Quality & Compliance Director for Huhtamaki Foodservice EAO.
Catherine Tipper points out that the first word in her new title – Customer – ties in with all of Huhtamaki's requirements and goals as a customer-oriented company.
"In a sense, it doesn't matter how good our quality and compliance is, if what we think is good enough, isn't good enough for the customer. I believe we should be able to exceed our customers' expectations every time."
"We should continue to build on our strong partnerships, solid customer base and great products, and get even better at what we are already doing well. Also, we need to make sure that any product sourced from any of our units delivers the same consistent, good experience to the customer."
Building a uniform offering
Another part of Catherine Tipper's job is working with new sites joining the company.
"Since we are a company growing strongly by acquisitions, we need to make sure that we can quickly, but gently, bring them into the Huhtamaki world with all necessary support, so that everyone delivers our company promise in the same way. However, it's all about collaboration – we have to also understand that new sites can offer us new ideas and practices to learn from."
"That's what this is essentially about: getting everyone to work together, making sure people know what the business expectations are relating to quality and compliance, and starting to harmonize and standardize without jeopardizing operational and commercial efficiency or our sourcing excellence."
Before the current position, Catherine Tipper worked for five years as Head of Business Excellence at Huhtamaki Gosport site in the UK. Educated as a Food Technologist, and with a broad experience from the food and beauty industry in the UK, Catherine originally wanted to take the step into the world of packaging because of Huhtamaki's global reach.
Her current job in the Foodservice EAO segment is truly a global responsibility and requires extensive travelling from time to time. Flexibility is important and in order to balance the work with other areas of life, Catherine has, since joining Huhtamaki, worked four full days a week in order to be able to also spend time with her family.