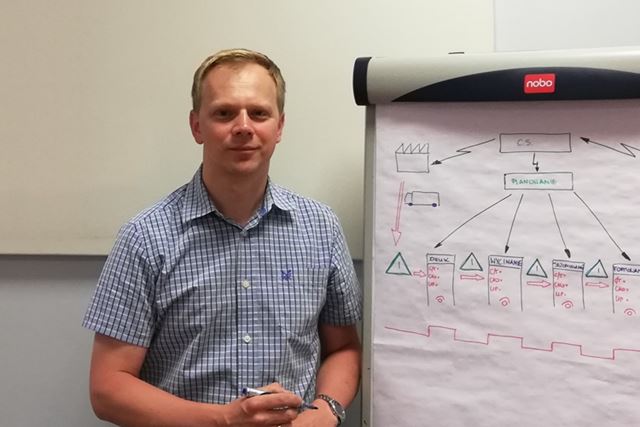 Marcin Szota got the first taste of Lean Six Sigma methodology in 2006. Right from the first training, he knew that he had found passion. 13 years later Marcin is Business Excellence Leader at Huhtamaki in Poland. He is a Lean Six Sigma Black Belt professional, responsible for the Lean business programs in the two plants in the country.
Working at Huhtamaki has offered challenging projects and opportunities for growth to Marcin. He joined Huhtamaki in Poland as a process development engineer in 2009. He was soon offered a new role as the project coordinator for the Czeladź plant that was being planned. Marcin was part of the team designing the layout, infrastructure and relocation of machines.
After the Czeladź plant was opened, Marcin continued working there as a process development engineer. He was responsible for optimizing the new plant's processes using the Lean methodology.
"At that time, I also became a certified Lean Six Sigma Black Belt professional. I am now a Lean and Six Sigma coach in Foodservice business area in Poland. As part of that role I have trained around 30 employees. Some of them are now green belt and black belt experts in this methodology."
Team-work is crucial for the Lean project success
The part that he likes best in Lean projects is working with different people and teams.
"I enjoy project work and driving for results. This role has given me a great opportunity to develop new tools and ways of working – both for the local and global units. I learn something new every day. From the projects, other people or training sessions," Marcin explains.
He highlights the importance of co-operation across the organization and creating communities around shared topics. "I cannot solve problems alone – I need help from local experts. When we work as a team, it is easier to get the team's full commitment to the new ways of working. To produce continuous improvements to the processes, all of us need to contribute to the work – every day."