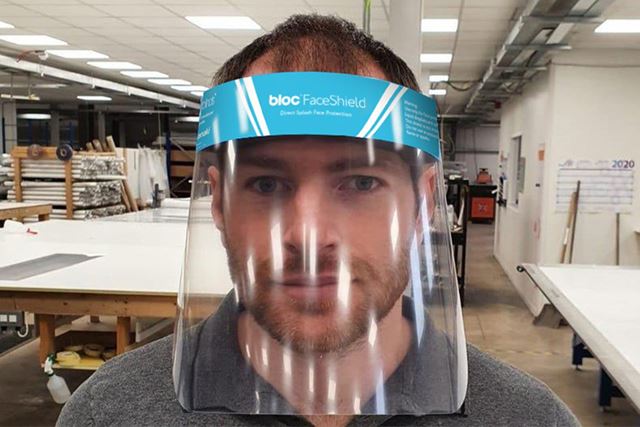 The global outbreak of the COVID-19 crisis has led to a critical need for personal protective equipment (PPE). Bloc Blinds, a blind manufacturing company, switched to produce face shields in answer to that demand. Ciaran Doherty, General Manager Foodservice UK at Huhtamaki saw an opportunity to help automate the process, because initially the production was relying heavily on manual work.
The two companies have now partnered on this initiative. Streamlining the process and using Huhtamaki's high-speed packaging lines for automation multiplies the volume of protective face shields that can be produced per week. The protective face shields are classified as adjunctive personal protective equipment and are designed to be used in conjunction with other PPE such as face masks.
"We started off trying to lend our support in some small way. This partnership with Huhtamaki can help us take it to the next level and ramp up production of Bloc FaceShields, providing this vital PPE to more people. We are determined to help as many frontline workers as possible - and this new venture with Huhtamaki will not only help make this a reality but ensure a robust supply chain is in place," says Cormac Diamond, the founder and Managing Director of Bloc Blinds.
"We have now repurposed our factory to give us a capacity of four million face shields a week and are continuing to innovate with a view to achieving six million units a week. This emergency affects us all, regardless of where we are around the world, and we want to help make a difference where it matters most," says Ciaran Doherty.
The first protective face shields are already being used by the Northern Ireland health care system. Huhtamaki is investigating the possibility to replicate the concept to some of its other manufacturing units outside the UK.