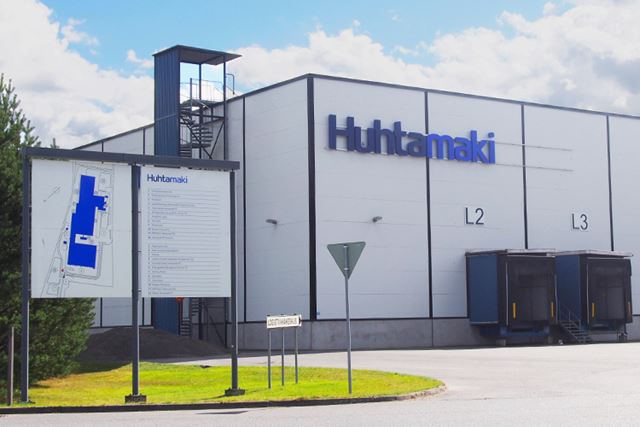 Huhtamaki's Foodservice manufacturing unit in Hämeenlinna, Finland, will move to new premises in 2019. The new unit is designed to be highly energy-efficient and will enable very efficient manufacturing operations as well as top work safety.
Sustainability has been a key driver when planning the new Huhtamaki factory. The unit will be highly self-contained when it comes to energy. Heating will be generated from the waste energy from the factory and geothermal heat from the factory ground. Additionally, some natural gas will be used.
The wall and roof structures of the building are optimized for energy saving, and more savings will come from smart building technology. When there is no one working in a particular area, the lighting is automatically switched off. Also, the LED lights in the factory play an important role in reducing energy consumption. It is calculated that they are up to 80% more efficient than the traditional fluorescent lights.
Even though the new factory will be slightly smaller in size, the production area is larger. Volumes will increase with automation, new machinery, new product ranges and new ways of working.
Increasing overall operational efficiency has been one of the focus areas in factory design. The factory's material and goods flows are optimized using LEAN principles to minimize transportation within the factory area.
Automation will be used primarily in tasks that are physically straining, ergonomically challenging or include a lot of manual work. This improves production safety and, at the same time, increases Huhtamaki's competitiveness.
Factory machinery and production methods will be modernized as well, and this will create additional sustainability benefits. For example, the facility will switch from solvent-based to waterbased print colors, and the need for solvent vapor treatment will thereby be eliminated.
The new factory project team at Huhtamaki has about 30 members. In addition to the dedicated project manager, there are a number of internal experts representing manufacturing operations, safety, risk management, factory maintenance, automation, printing and procurement, to name a few. All the factory employees have been invited to contribute in different phases of the planning.