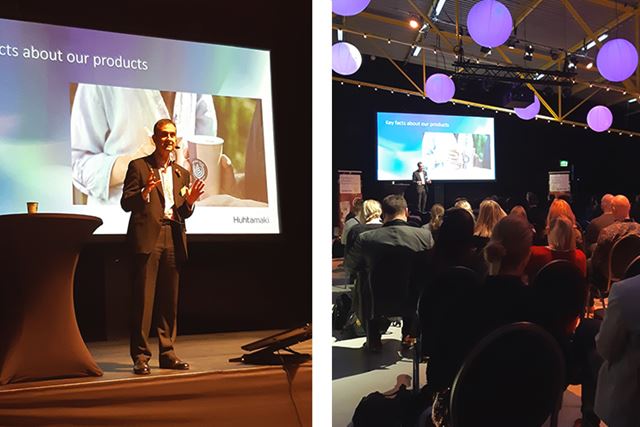 Richard Ali, Sustainability Director of Huhtamaki Foodservice EAO Segment, discussed the current topics of foodservice packaging and sustainability in a morning seminar in Helsinki start November.
"Foodservice packaging is an enabling infrastructure, helping serve food and drinks. Therefore, food safety is always our number one priority", he started.
"There are three main areas which can help improve the sustainability of foodservice packaging. We believe in good packaging design, which includes right materials choices. Secondly, we need better collection and recycling infrastructure and last, but not least, increased consumer communication."
Towards circular economy
"I'm happy to see major changes within in the industry. More recycling for paper-based products is opening, see for example Westrock's announcement to recycle foodservice packaging in the U.S. Renewable materials are at the core of our development."
Richard Ali also pointed out that there are no simple answers to complex questions. For example, what is a plant-based material, may not automatically be compostable. Small differences matter.
"We as a packaging manufacturer can modify our process and work with different materials. We follow the market closely to meet the local requirements and serve our customers with sustainable food packaging."
"For example, right now in Europe we are following closely the preparation of the SUP directive. While the intention against littering is very important, we call on policymakers to address the complex and negative consequences and work with the entire food chain from farmers to retailers to deliver a workable and effective directive."
More about our foodservice packaging in Europe-Asia-Oceania