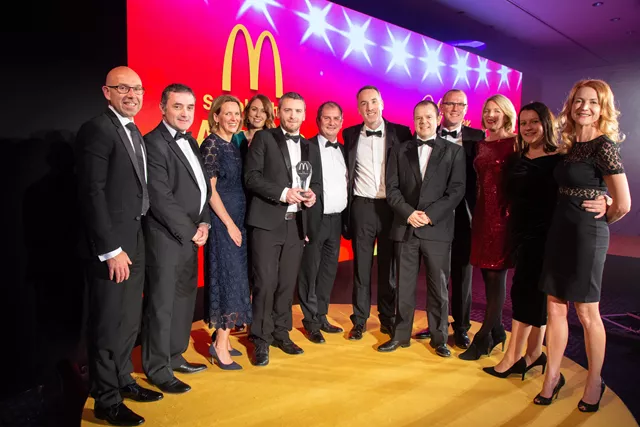 Huhtamaki's folding carton business unit in Northern Ireland, Huhtamaki Foodservice Delta, has been announced as McDonald's UK & Ireland Supplier of the Year for 2019. The award was presented at a ceremony held in London as part of McDonald's Supply Chain conference and is only the second time a packaging supplier has been honoured in this way by McDonald's.
Earlier this Huhtamaki opened its first paper straw facility, in Antrim, Northern Ireland. The facility is a significant investment in support of McDonald's commitment to paper straws. This initiative was highlighted as a key factor in Huhtamaki's success at the awards. The team have also supported McDonald's major promotions and delivered outstanding service on core lines, including fry cartons and burger clams.
"We are absolutely thrilled to have been recognized by McDonald's. This demonstrates the growing importance of sustainable packaging for our customers and our innovation in new product categories to meet their needs.
Within a few months we delivered a solution for the McDonald's system and this award caps an incredible year for Huhtamaki Foodservice Delta, putting us in a strong position to deliver even more growth in 2020," comments Ciaran Doherty, General Manager, Huhtamaki Foodservice UK.
"Congratulations to Huhtamaki Foodservice Delta on this much deserved Supplier of the Year Award. The highlight of our Annual Supply Chain Conference is the Supplier Awards, presented to those suppliers who most effectively deliver against our supply chain and business plan priorities. This award is a fantastic recognition of many years of self-managed excellence, delivering positive solutions for McDonalds in a professional and innovative way," says Beth Hart, McDonalds Supply Chain & Sustainability Director UK & Ireland.