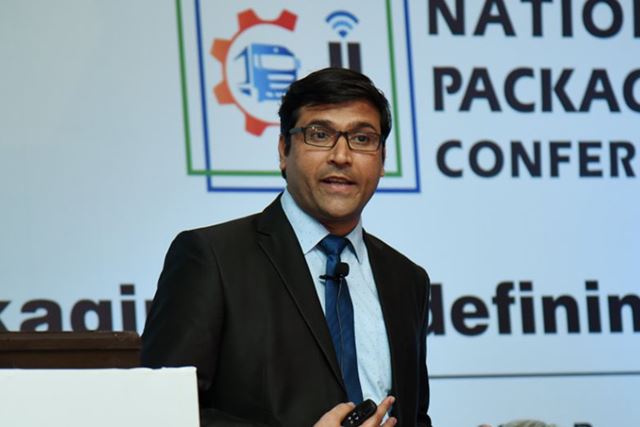 Huhtamaki blueloop platform is part of our global commitment to drive the next generation of flexible packaging for circularity and sustainability. After the launch in April, it has been engaging with different stakeholders within the packaging value-chain to develop unique recyclable and compostable solutions, identifying partners for viable waste-collection as well as campaigning for greater recycling at industry forums.
In June, Huhtamaki PPL in India was invited to two seminars as a panelist and a guest speaker to share more about the topic.
The first seminar on "Sustainability of Polymer (Plastic) Industry", jointly organized by the Indian Chemical Council and the Department of Chemicals and Petrochemicals, Government of India focused on the prevailing perception of plastic, plasticulture (agricultural applications) and packaging. It was agreed that waste management is more effective and practical than finding alternatives to plastic.
Mr. Atin Chaudhary heading Corporate Technical Services at Huhtamaki PPL, informed the audience of our readiness with new age primary packaging for a host of products like coffee, hydrated soups, personal care items, jam and chocolate. Packaging of those products could give a fillip to the recycling industry by enabling partners to recover up to 70% of packaging waste material. Huhtamaki's blueloop ambition for circular flexible packaging triggered positive after-thought and feedback at the forum.
Additionally, the National Packaging Conference organized by the Confederation of Indian Industries (CII) in Bengaluru on 27th- 28th June evoked fresh dialogue on the influences of packaging on businesses that utilize them. Themed "Packaging – Redefining the Business," it brought together representatives from Indian Packaging industry to discuss topics related to sustainability, supply-chain & sourcing optimization, technology, automation as well as impacts of current trends and innovations on businesses.
Our Huhtamaki PPL colleagues Mr. Ruturaj Kamthekar and Ms. Meenakshi Sapru were on the guest speaking panel that discussed "Sustainability in Packaging" and "How Packaging Drives Volumes in Retail" respectively. While Ruturaj shared our ambition for realizing a circular packaging ecosystem that supports partners in doing business more responsibly through Huhtamaki blueloop, Meenakshi encouraged delegates to look at digital printing as an opportunity that offers personalized packages and quick time to market. Hari Chayanam, Savitha Kumar & Durga Konduri showcased the first of our blueloop samples along with our digital technology, built interest in our solutions while wrapping up delegate's queries.
The conference offered positive feedback on our ambition for helping partners meet their sustainability goals with a clear agenda for circular flexible packaging. Going forward e-commerce, stricter industry legislations, higher disposable incomes, changing consumer preferences and a growing sense of responsibility among businesses and consumers are expected to stir the next wave of packaging innovations in India.