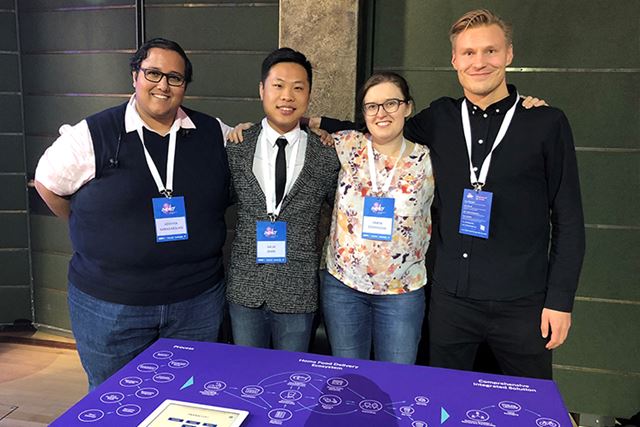 A six-month project with Huhtamaki introduced a group of students to home delivery packaging design. As a cross-national, multidisciplinary company, Huhtamaki strives to value everyone's ideas. And this project was no exception.
A team of four students from Finnish Aalto University's International Design Business Management (IDBM) master's program had an interesting opportunity to see the world of packaging with Huhtamaki. The project focused on the home delivery segment of the food service business.
IDBM is a cross disciplinary program, as it includes students from all six of Aalto University's schools and integrates business, design, and technology. One portion of the program was an industry project that partnered with companies, including Huhtamaki. In this project, the master's students utilized their knowledge to solve a question presented by the company.
"I would say the industry project was sort of the flagship idea of the IDBM program. It allowed us students to tackle real world business problems and provide perspectives on them. As I have never worked in packaging design, this was really interesting for me. It allowed me to look at the world of packaging from a different perspective", explains Adithya Varadarajan, an Indian Design Strategist on the team working with Huhtamaki.
The team working with Huhtamaki also had members from China, Russia and Finland. Jialai Qian has a background in material science and engineering, Varya Stepanova is a design systems specialist and front-end developer, and Juho-Matti Viironen has a background in packaging design and runs his own packaging design firm.
"We had a really interesting mix of disciplines working together. Everybody was able to bring their expertise, not only in terms of their skills, but also knowledge from their regions. For example, when we did research, we spoke to consumers from our own countries and people we know around the globe. It really helped us to gather a lot of diverse perspectives together", Adithya continues.
Understanding all aspects of home delivery
The six-month cooperation with Huhtamaki and students lasted from late 2017 to summer 2018.
"The initial phase was to understand what Huhtamaki wanted, so they introduced us to the problem. After that, we researched trends and started to gather an understanding of what the market wanted. We interviewed consumers in the food delivery sector and spoke to people from 30 countries all over the world. We also researched the industry, the main players in the sector, how they work, and what's coming next to the market", Adithya notes about the project.
The team also visited Huhtamaki's factory, took part in two conferences in London, and visited different restaurants that offer home delivery. In addition, they also sought the perspectives of food delivery companies.
The team developed an understanding of food delivery and mapped the relevant ecosystem. They then started to develop different innovative product concepts and design solutions for Huhtamaki. By May, they had a ready concept road map for Huhtamaki, which can lead to concrete products.
"We not only gave Huhtamaki a solution that we suggested they could pursue, but also gave them a lot of ideas about where the market is going", Adithya notes.
An equal partnership with students and Huhtamaki
Two of Adithya's team members were familiar with Huhtamaki, but he was newly acquainted with the company.
"It was already impressive that they are such a big player. But what is more, I found it really encouraging that a company that big was willing to not just participate in the student project and allow students to help them with a problem, but also willing to listen to what we had to say. They were open to new ideas, and I think that is important in any industry", Adithya explains.
"It was more like a co-creation project than cooperation. It did not feel like we were students and they were a company. It felt like we were partners helping them go forward. They treated us as equals."
The project was an excellent learning experience for the team. This is not only because of all the information they gathered from the field, but also because of the teamwork, that both Huhtamaki and the students found fruitful.
"In the end, we came up with a solution that Huhtamaki was really happy with because they kept challenging us and pushing us to take it to the next level. That would not have been possible if there had not been this close cooperation", Adithya concludes.
Read more about working at Huhtamaki