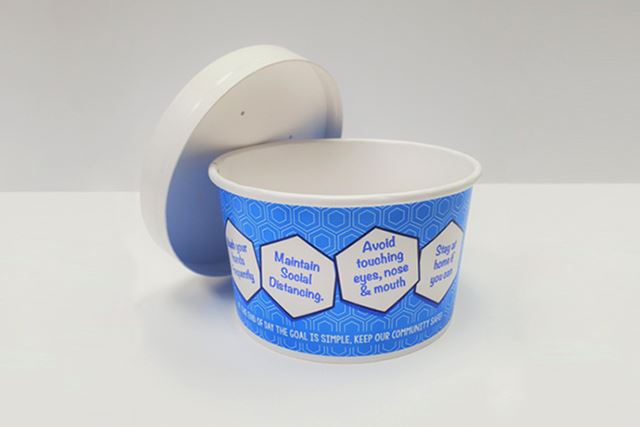 Huhtamaki North America has always taken great pride in supporting the communities where we work and making a difference where it matters most. Here are some of the great projects carried out by our employees across the US up until now:
Coleman, Michigan
One of our more unique stories is taking shape near the Coleman facility where a local ice maker has shut down the ice-making operation and pivoted toward manufacturing plastic face shields for local hospitals using their CNC machines. Huhtamaki supported the operation by donating PET sheets.
The face shields are coming along beautifully and moving out to where they are needed. Read more about it in the Catalyst Midland News.
Coleman employees also found old t-shirts and donated them to residents making cloth masks from home.
Hopkinsville, Kentucky
With schools closed in most states and the children they serve suddenly in search of their mid-day meal; school cafeterias need to shift from their traditional school lunch service to a "grab and go" model. That requires packaging and Hopkinsville employees were ready to pitch in with 13,000 boxes and containers to help local schools distribute the meals.
And a local radio station took notice. Read the story.
Fulton, New York
Our facility in Fulton has donated 400 cases of cups and covers to local school districts and other organizations that are using food packaging that they typically did not prior to the coronavirus outbreak.
This is in addition to a donation of N95 masks to Oswego Health.
Waterville, Maine
Waterville employees always stand ready to support their community, and they are stepping up now more than ever. They have:
Donated N95 Masks to the Waterville Fire Department.
Donated school lunch trays to the Alfond Youth Center Boys Club. The Alfond Youth Center donates the food in Kennebec County to support everyday school lunch programs. This also includes meals during weekends.
Donated dinner plates to Redington Fairview Hospital and a program that supports local food pantries, as well as to local school lunch programs in Somerset County.
Hammond, Indiana
Donated N95 masks to a local community hospital and $2,500 to the Northwest Indiana Food Bank.
Marion, Indiana
Marion employees support the St. Martin Community Center throughout the year and that support is not falling off. St. Martin set up a large outdoor tent to assist in safely providing meals to approximately 200 residents each day. Our Marion facility helped offset that cost with a donation of $4,000 and additional plates and bowls to help with meal delivery.
A donation of plates has also been delivered to two local day care agencies in need of support.
An additional $2,500 was given to Grant County EMA to assist with buying PPE required by emergency services.
The facility has also recently given gloves, masks, Tyvek suits and more to the Mill Township Fire Department.
De Soto, Kansas
De Soto continues a long-standing relationship with three area food pantries in Lawrence, Eudora and De Soto with donations and helped to facilitate at-home deliveries with the De Soto Food Pantry by recruiting volunteers and communicating new safe-distancing policies to clients. Employees also helped to facilitate a relief fund in De Soto to serve local residents who have urgent needs beyond food.
Our employees not only contribute their time, money and materials, many serve in leadership roles at non-profit organizations.