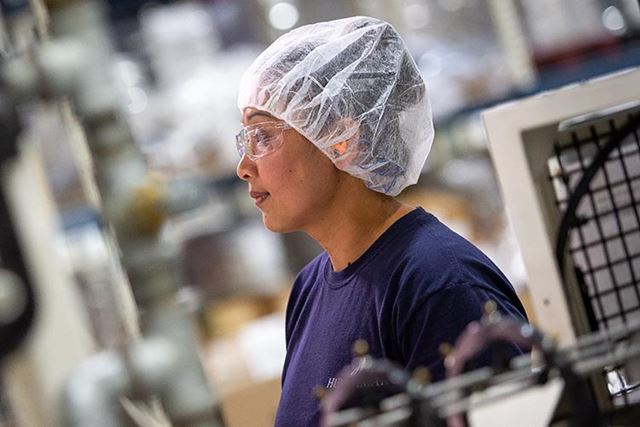 We believe in protecting food, people and the planet. Our people are at the very heart of our company, our most valuable asset, and the key to our success. We believe diverse teams fuel innovation, creativity, customer satisfaction, growth, and help us make a difference where it matters. That is why we embed diversity and inclusion into all facets of our business.
Ingolf Thom, EVP of Human Resources and Safety, says "On March 8 and International Women's Day, we proudly advocate for gender equality in the packaging industry. Huhtamaki is committed to building on our long history of employing a diverse workforce and continuously nurturing a workplace where everyone can dare to be themselves".
Why does Diversity, Equity and Inclusion matter for us?
Organizations can have a positive societal impact by providing access to employment for minority groups
A wider resource pool ensures businesses critical to society can continue to operate
Diverse teams are proven to contribute to more profitable businesses. On average, companies with diverse executive teams outperformed peers by over 20% in a study by McKinsey.
Specifically in regard to gender equality, 61% of women look at the gender diversity of the employer's leadership team when seeking a job and only 4,8% of Global 500 companies are ran by women.
At Huhtamaki, nearly 30% of our middle and senior management, one third of our Global Executive Team, and 44% of our Board of Directors are comprised of female leaders. Not only in leadership roles but also across our worldwide sites, we have been making visible progress. Here are some recent examples:


Paving the way for gender equality in Nules
In 2013, our site in Nules took important steps to ensure equality by drafting their first Equality Plan. This plan worked as a starting point with the aim to baseline its position as an equal opportunity employer. After that the team in Nules has renewed their Equality Plan twice with one of the targets being recruiting more females in roles that have been traditionally preferred and held by men. Nules has succeeded in attracting female talent as at the end of 2022, the site showed progress on its employment statistics women make up:
60% of all employees on site
50% of management positions
57% of the site leadership teams
33% of the logistics department
This is one example of how baselining the starting position and focusing on what matters can help build a more diverse workforce and an inclusive culture step by step.

Our site in Istanbul, Turkey has been recognized for their efforts in recruiting more women to shopfloor roles
Up until 2021 our site in Istanbul, Turkey, did not have female employees working on the shopfloor and having only male workers was considered business as usual. The site had a broad female representation in leadership positions but the same diversity was not reflected on the shopfloor. The local team decided to challenge this perception and introduced a roadmap for diversity, equity and inclusion which included:
An initiative to increase the number of female employees in production roles from 0 to 100 with the goal to create a gender-balanced workforce and promote awareness of diversity and inclusion practices.
Improvements to ensure women's well-being at work such as breastfeeding rooms, women empowerment workshops and cultural trainings for employees to build awareness on female leadership and engage employees to transform the culture together
As a result, there are today 42 female employees in the shopfloor, showcasing that representation on its own is not an accurate reflection of the true state of diversity in an organization.
Carving a new pathway for women with I-WIN campaign at Huhtamaki India
I-WIN, (I and the Women Interactive Network) is a female-led campaign created to support women in the workplace in order to accelerate their careers through a safe, collaborative, and compassionate learning environment. The activation launched in India as part of the global company efforts to empower women at work.
I-WIN offers a supportive and highly collaborative atmosphere for learning at Huhtamaki. It is facilitated by a team of esteemed senior leaders who also play as mentors and advocates through a series of master classes.
Participants receive insights and training to grow their leadership skills and technical know-how that will develop and advance their careers. Practical advice and personal experience from female leaders in the organization will also be shared to foster connection and belonging amongst women in the organization.