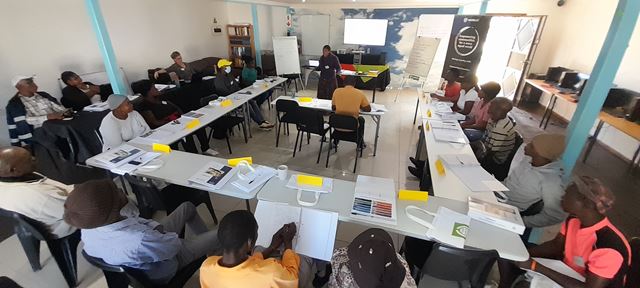 In South Africa, informal waste collectors are a vital part of the country's recycling system. Waste collectors provide a much-needed service for communities, diverting waste from landfills or being illegally dumped, and provide value to the economy by helping to regenerate value through the reuse of material. Today they collect more than 90% of recycled waste, yet many collectors live on less than 50 Rand—or 2.50 euros, which is not sustainable.
That's why Huhtamaki has proudly teamed up with international charity WasteAid on a two-year program that provides training and support to waste collectors—Wastepreneurs—to develop their skills and capacity, move up the value chain and earn more money.
"We at Huhtamaki believe that waste is a very valuable secondary material. To make this a reality, incentivisation, innovation, partnerships and changes in consumer behaviour all play a role. It is important to support and encourage young Wastepreneurs by showing them the limitless possibilities that the circular economy can offer. In our view, collaboration can make a real difference and that's why we are delighted with our partnership with WasteAid", says Shane Van der Nest, General Manager at Huhtamaki South Africa Fiber Foodservice operation.
The Wastepreneur Challenge kicked off with its first cohort on March 30 with 20 Wastepreneurs in the unserviced township of Diepsloot, about one hour northeast of Johannesburg.
The group includes people from a wide variety of backgrounds. Female and male, old and young, some have been working in waste for many years but have not received any financial literacy or other training. All of them are keen to learn more about how to build their offering.
Over 12 weeks, participants will take part in a holistic training course on a range of topics, from better understanding the world of waste to personal and business finance. It will be followed by a month of tailored business mentorship and culminate in a pitching event where the Wastepreneurs can pitch for seed funding to develop their business idea.
The program builds on relationships and learnings gained from prior initiatives between WasteAid and Huhtamaki by partnering with community organization the Wot-If? Trust in Diepsloot , as well as providing access to successful Wastepreneurs to share their experiences. In fact, one of the program's lead trainers, Harriet Matjila, expanded her business and opened her own female-run Buy-Back center last year after being a finalist in the Zero Waste Cities Challenge, a previous Huhtamaki-WasteAid collaboration.
Michelle Wilson, Director of Programmes at WasteAid says: "We are really excited to continue our partnership with Huhtamaki in South Africa and are proud to be able to support and track the progress of these motivated Wastepreneurs. Through this course we want to show there is pride in working in the waste value chain. Through this course, we see a real opportunity for young and old to build viable livelihoods through recycling."