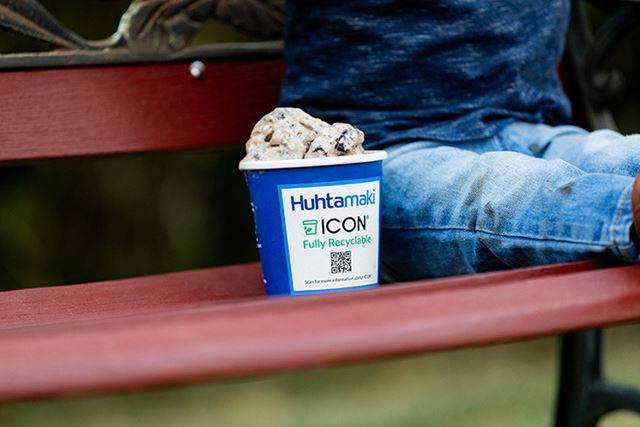 To meet the growing demand for sustainable packaging alternatives in North America, Huhtamaki introduced ICON® packaging— an innovative, recyclable ice cream packaging solution.
Made from 95% renewable biobased material, ICON® packaging combines Huhtamaki's proprietary water-based barrier coating with SFI-certified paperboard. This allows consumers in North America to recycle ice cream containers and lids just like other paper products, such as folded carton packaging.
"Our paper-based technology and barrier solutions are the key differentiators in ICON® ice cream packaging. The technology allows ice cream packaging to enter the existing North American recycling stream more easily," says Ann O'Hara, President of Huhtamaki North America.
ICON® ice cream packaging shows that we can transition to paper-based packaging formats and alternative sustainable barriers without compromising packaging functionality, such as structural integrity in frozen supply chains. By innovating and paying attention to key factors like condensation resistance, we have shown how paper-based materials can provide viable alternatives to plastic.
Using paper in ice cream packaging has additional benefits for producers, such as better options for decorating and shaping packaging, or full-cover printing options to aid marketing efforts. Consumers, meanwhile, can take advantage of our Connected Packaging by scanning the QR code on all ICON® packaging products to find out how to recycle after use.
We developed ICON® solutions through our comprehensive expertise in barrier functionality and paper forming. As the first-to-market breakthrough in paper packaging technology, ICON® packaging demonstrates the company's ambition to become the first choice in sustainable packaging solutions.
Explore ICON® packaging: https://iconcup.info/