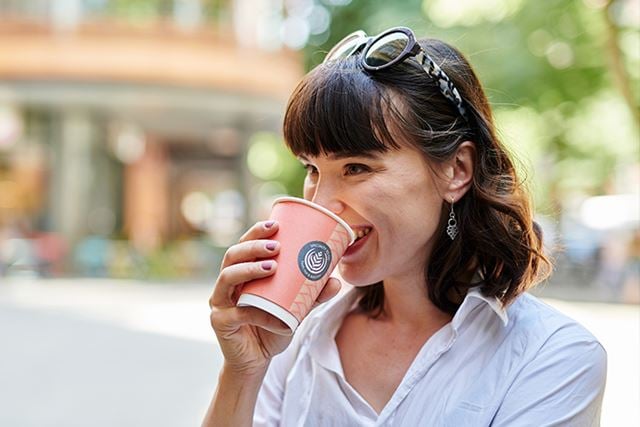 According to a life cycle analysis (LCA) co-commissioned by Huhtamaki, paper cups often have the lowest carbon footprint, and recycling lowers it further by 54%. The LCA was carried out in 2018-2019 by VTT Technical Research Centre of Finland Ltd.
"At Huhtamaki we are passionate about the sustainability of our products, and we constantly want to know and understand more about this important subject. That's why we set out to study the life cycle of a paper cup for coffee and its climate impact. We also wanted to find out what are the major critical aspects of paper cups and what could be improved." says Richard Ali, Sustainability Director for Huhtamaki Foodservice Europe-Asia-Oceania.
In most every-day scenarios, a paper cup has the lowest carbon footprint and is always a hygienic choice
Like all food packaging, the carbon footprint of a paper cup is small compared to the food itself. According to the study, a paper cup accounts for just 4% of the climate impact of a take-away latte, while the remaining 96% is coffee and milk production and energy of making the actual drink.
The efficiency of washing is the major factor affecting the climate impact of ceramic cups. When washed efficiently, a ceramic cup needs to be used at least 350 times before it has a smaller carbon footprint than a paper cup. If the ceramic cup isn't washed efficiently, or the paper cup is recycled after use, paper cup is always the better choice for the climate.
In the take-away scenario, the study shows that the reusable cups should be used at least 20 times to minimize climate impacts. If the paper cup is recycled afterwards and/or is made with a plant-based PE coating, the breakeven point increases to between 32 and 36 times.
Whether the coffee is enjoyed in the café or is taken along, a paper cup always provides a hygienic way of serving it. Inefficient washing of ceramic or reusable cups may create a food safety issue, especially if milk has been used in the coffee.
Recycling makes a major difference
Recycling drives lower greenhouse gas emissions. When recycled the carbon footprint of a paper cup falls by a significant 54%. If a traditional paper cup is swapped for Huhtamaki's Future Smart paper cup and is also recycled, the footprint falls by 64%. The good quality wood fiber in Huhtamaki's paper cups, which is sourced from sustainably managed forests, can be recycled up to 7 times before it loses its strength.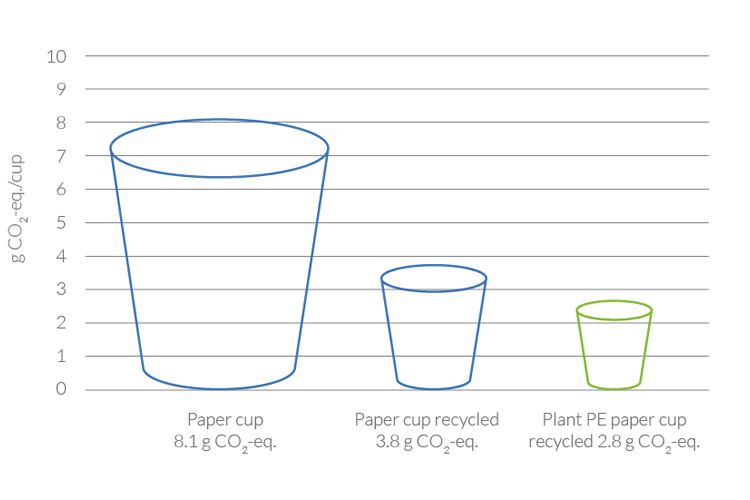 For more details, please download "Taking a closer look at paper cups for coffee" Life Cycle Analysis
Read more about Future Smart paper cups, which represents the best performing paper cup option in terms of climate change impact
For more information, please contact
Richard Ali
Sustainability Director, Huhtamaki Foodservice Europe-Asia-Oceania
richard.ali(at)huhtamaki.com