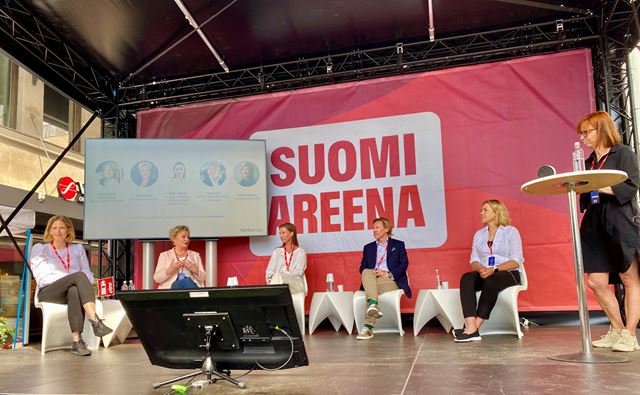 In late June, Huhtamaki organized a panel discussion as part of SuomiAreena, the largest stakeholder festival in Finland to discuss societal trends. This year our discussion revolved around crucial topics such as green transition, decision-making at the EU level, and Finland's competitiveness in the global market. The speakers, including Member of European Parliament (MEP) Elsi Katainen, MEP Henna Virkkunen, CEO of Climate Leadership Coalition Tuuli Kaskinen, Strategy and Business Intelligence Director at Wärtsilä Energy Nette Lehtinen, and Executive Vice President, Corporate Affairs and Legal Group General Counsel at Huhtamaki Sami Pauni, shared valuable insights and diverse perspectives on these important trends.
Driving a Green Transition means taking Responsibility
MEP Elsi Katainen emphasized the importance of systemic management of Environmental, Social, and Governance (ESG) factors by Finnish industry. She commended the supportive business environment and the culture of innovation present in Finland. Katainen recognized the role of companies and stated, "fortunately, companies in Finland have shown a strong sense of responsibility, recognizing that broad sustainability is the only path towards a truly sustainable future."
MEP Henna Virkkunen highlighted the significance of understanding the effects of regulatory decisions and the crucial role stakeholders play in providing valuable insights and suggestions for improvement. Virkkunen praised the active involvement of Finnish industry in aligning with sustainable goals and adopting innovative operating methods. She was encouraged by the commitment of Finnish industries driving positive change, stating, "Finnish industry has set a good example by actively contributing to sustainable goals, which distinguishes it from many other EU countries."
At Huhtamaki we have integrated sustainability into our operations with comprehensive roadmaps guiding us towards our 2030 targets. Sami Pauni highlighted our commitment to a holistic sustainability approach, stating, "we have reduced waste sent to landfill, expanded renewable energy coverage, and achieved significant progress in water management." The dedication to sustainability aims to ensure we have a positive impact and to promote circularity throughout the value chain.
Decision-Making at the EU Level
The panelists emphasized the significance of decision-making at the EU level and the need for informed discussions regarding Finnish green technology and know-how. During the discussion, Tuuli Kaskinen, stressed the value of engaging with decision-makers to drive sustainable development. She emphasized the importance of leveraging scientific evidence, promoting stability, ensuring legal certainty and embracing the competitive advantage of the Single Market. Kaskinen stated, "prioritizing decision-making that fosters innovation, supports circularity and encourages responsible behavior is of utmost importance to drive positive change in the European Union."
A key topic of discussion revolved around the significance of a predictable regulatory environment. Nette Lehtinen emphasized that a stable regulatory framework plays a vital role in attracting investments. "A predictable regulatory environment is crucial for companies like ours. It provides the necessary certainty and confidence to make long-term investment decisions," Lehtinen emphasized. Such an environment ensures that companies like Huhtamaki and Wärtsilä can plan and invest in a sustainable future.
"The global competition in the space for green transition is intensifying. It is crucial for Europe to be at the forefront of global competition, which requires industry and policymakers to come together. A balance needs to be found for incentivizing the transition while avoiding protectionism," Kaskinen stressed.
Balancing Reporting Requirements and Concrete Climate Actions
The discussion also addressed the delicate balance between reporting requirements and concrete climate actions. Sami Pauni highlighted the need for reporting frameworks to capture pertinent data and showcase the environmental advantages of packaging innovation. He emphasized the importance of streamlining excessive reporting obligations, enabling resources to be focused on sustainability initiatives. "It is essential to streamline excessive reporting obligations so that resources can be focused on actual sustainability progress instead," said Pauni.
Collaboration for Tangible Climate Actions
Throughout the panel, the speakers stressed the significance of collaboration between policymakers, businesses and consumers. They emphasized that tangible climate actions and progress towards a sustainable and circular economy can only be achieved through collaborative effort and systems thinking. The panelists acknowledged the importance of working together to drive positive change and ensure a sustainable future for Finland and the European Union.
Conclusion
The panel discussion held during the SuomiAreena festival provided valuable insights into Finland's green transition and decision-making at the EU level. The panelists highlighted the systemic management of ESG factors by Finnish industry, acknowledging the supportive business environment and culture of innovation in Finland. They emphasized the need for informed decision-making, focusing on innovation, circularity, and responsible behavior to drive positive change at the EU level.
The balance between reporting requirements and concrete climate actions was discussed, underlining the importance of streamlining reporting obligations to allocate resources towards sustainability initiatives. Collaboration among policymakers, businesses, and consumers was emphasized as vital for driving tangible climate actions and working towards a more sustainable and circular economy.
Finland's commitment to sustainability, its supportive business environment, and the active engagement of Finnish companies, such as Huhtamaki, position the country favorably in the global market for green technology by fostering a holistic responsibility and informed decision-making.

Watch the panel at SuomiAreena here (in Finnish): SuomiAreena: Suomalaiset yritykset kestävän kehityksen moottorina EU:ssa – katso MTV Katsomossa