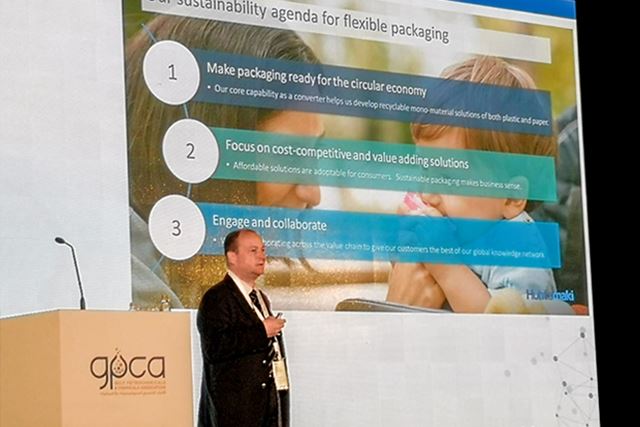 Michael Hahl, Sustainability and Strategic Innovations Director at Huhtamaki Flexible Packaging held a presentation at the Gulf Petrochemical & Chemical Association's Plasticon innovation conference in Bahrain on March 12.
"Huhtamaki has a substantial track record in flexible packaging solutions for food and personal care. We have served major global brands for years with our lightweight, high-performing materials", says Michael.
"Now the whole industry is taking major steps towards recyclability. I am happy to see action seeding on all fronts, including design, manufacturing, collecting, sorting and reusing of the recycled material."
Huhtamaki Flexible Packaging is closing the loop by developing recyclable packaging materials even for the most demanding packaging specifications like milk powder and coffee. Michael explained how the company has defined its development agenda into three key aspects.
"Firstly, we want to make our flexible packaging ready for the circular system. Our core capability as a packaging manufacturer helps us develop recyclable mono-material solutions from both plastic and paper."
"Secondly, we focus on developing cost-competitive and value-adding solutions. Affordable solutions are adoptable for consumers and most likely to gain ground quickly."
"Thirdly, we want to engage all parties and collaborate across the value chain to give our customers the best of our global knowledge network."
According to Michael we can expect interesting new developments in the flexible packaging front in the near future.