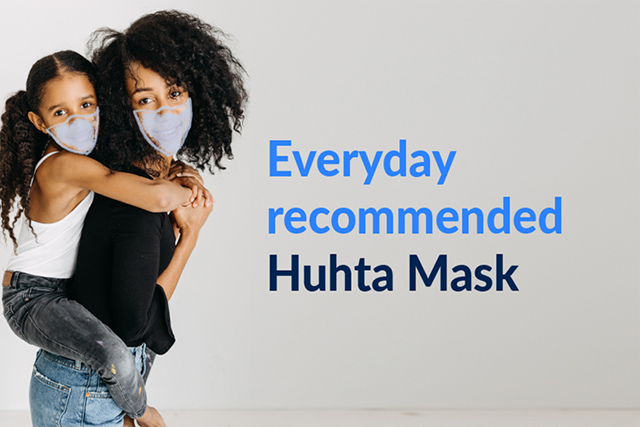 We have launched Huhta Mask - a high-quality face mask to help a responsible return to a new normal
The Huhta Masks are suitable for everyday use and help reduce the spread of droplets into the environment*. The comfortable masks are breathable and washable, and are made of high-quality fabric with anti-microbial and fluid repellent properties.
"At Huhtamaki we are committed to protecting food, people and the planet. With this new range of face masks, we enter the retail space with a completely new approach for us and a new product group," says Ciaran Doherty, General Manager, Foodservice UK.
"It is important to us to help people live life as they want it to be. The Huhta Mask allows people to resume their everyday activities whilst taking others into consideration," he continues. "In addition to printing and manufacturing the stylish folded carton consumer packs, our high-hygiene packaging factories are well-equipped to undertake the packaging of the masks, and via our global network we are able to offer these affordable, high-quality masks in multiple markets across the world."
The Huhta Masks will be available at retailers across the UK in July, and will also be distributed globally via supermarkets, convenience stores, pharmacies and foodservice outlets. They are also available for purchase online. The initial range includes two sizes, one comfortably fitting adults and one for children (36 months and older). Both sizes are available in Lavender Grey and Delft Blue. The shelf-ready packaging includes 10 packs, each with one mask, that can be displayed on a shelf, end pedestal, podium or hook.
* Please note that the Huhta Mask is not intended for use as a medical device or personal protective equipment (PPE). The wearing of a face covering does not provide protection against the coronavirus (COVID-19) and should not be used as a replacement for social distancing or self-isolation measures.