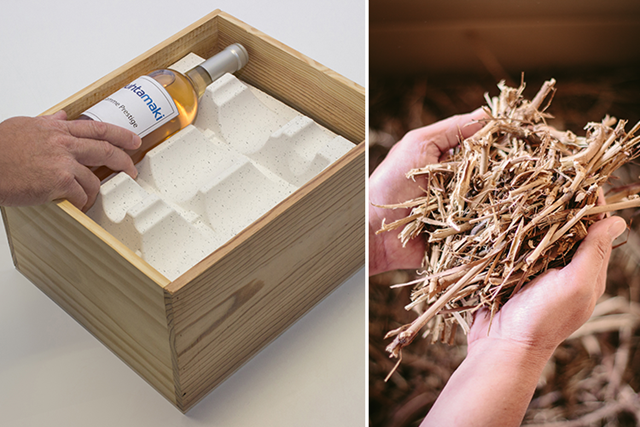 Huhtamaki La Rochelle in France is proud to introduce a new range of bottle dividers, the PRESTIGE, created in collaboration with Vitis Valorem, located at Meursault, Burgundy.
PRESTIGE range is the result of a big idea, paying homage to the vitality and natural qualities of wine and at the same time building on our deep knowledge of using recycled materials. Our new bottle divider uses a new and unique raw material normally wasted every year: vine shoots.
"Our aim was to create a high-quality, natural bottle divider solution for wineries including a new sustainable raw material," says Amandine Duranton, Wine Segment Sales Manager from Huhtamaki in France. "The 100% biodegradable and recyclable PRESTIGE wine bottle dividers are made of recycled paper and vine shoot powder."
Huhtamaki La Rochelle gives a second life to this new 100% bio-sourced raw material; sustainable and recycled, produced locally in very big quantities, renewable and environmentally friendly and immediately recognizable by wineries.
Every year after the harvest and in the beginning of winter, the vine shoots are cut off and burned. Rather than wasting them, Vitis Valorem collects them and processes them to new raw material, called Sarmine®, which is crushed and micronized especially for Huhtamaki.
Huhtamaki La Rochelle uses Sarmine® in its innovative molded fiber process. Sarmine® is mixed with recycled paper to create a pulp which is then formed into our new PRESTIGE range of bottle dividers available with various sizes and forms.
The vine shoots will continue to protect the wine on its way to consumers through this new range, with optimized rigidity and ergonomics, specially adapted to export in wooden and carton boxes.
Thanks to this innovative material and process, PRESTIGE range offers superior value and enhances the image of the well protected wines, recycling the vine shoots rather than burning them.
For more information, please contact
Amandine Duranton
Wine Segment Sales Manager
Phone: +33 6 12 38 98 73
Huhtamaki La Rochelle SAS
4, rue des Ponts Neufs
85770 L'Ile D'Elle, France
www.fiber.huhtamaki.com