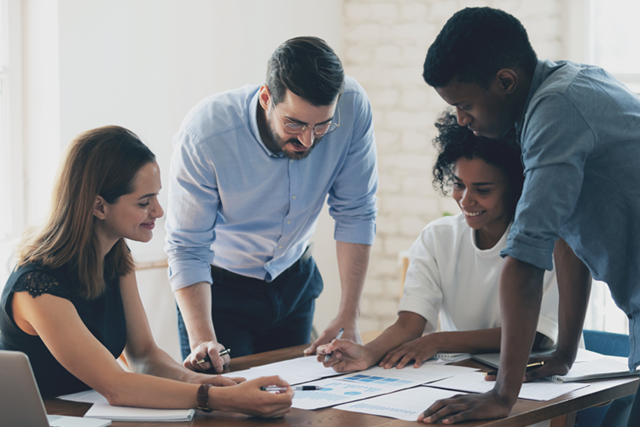 The key to Huhtamaki's future success is in ensuring the safety and talent development of our employees. This is achieved through investments in quality management, employee career development and a safe work environment. Our aim is to provide a workplace where employees are excited and motivated to further develop their skills, which in turn has a positive effect on our business.
"For our success as a company and as individuals, it is important to make sure that our knowledge, skills and competencies are up to date, helping us deliver on our 2030 Strategy," notes Hanna Heikkilä Vice President, Organization & People Development at Huhtamaki.
A core element in Huhtamaki's 2030 Strategy is developing our diverse talent and building the competencies and capabilities of our employees to ensure they can be safe and thrive in their jobs. Therefore, we have integrated into our leadership model our Care Dare Deliver values with three leadership areas: leading business, leading others, and leading yourself. Our goal is to establish a common language when talking about leadership, make sure that all leaders know what is expected of them, and provide tools to help leaders succeed in their work.
To become the most engaging, motivating, and safest workplace for our people, we need to adopt new ways of working and build our strategic capabilities: digitalization, sustainability, and innovation. We have launched an e-learning course addressing our digitals agenda and are developing one on sustainability and safety. Similarly, we are developing learning solutions for our sales professionals to be able to deal with topics related to sustainability and digitalization with our customers.
At Huhtamaki, we encourage our employees to drive and plan, with the support of their managers, their own career and learn in the flow of work. Our many strategic projects provide great learning opportunities, and our management is an active promoter of internal mobility.
We want everyone to stay healthy and work safely, and we have identified the key building blocks to enable us to realize this goal. These are ensuring a high level of health and safety competencies across the entire organization, the continuous development of KPIs that both aim at reducing the number of injuries globally as well as strive to prevent the reoccurrence of a health and safety issue and utilizing automation and digitalization to minimize human error and enable anyone to easily report situations which could potentially cause an incident. We understand that all this requires creating a safety culture, which in turn requires time. However, this is something we are set on achieving.
"Safety needs to be part of our DNA of everything we do, in the way we act, and in the decisions that we make, globally", Miia Hapuoja, Vice President, Employment, Resourcing, Health & Safety at Huhtamaki.
Huhtamaki's 2021 Annual Report, to be published on March 1, 2022, contains more information on building a high-performance culture through people development.